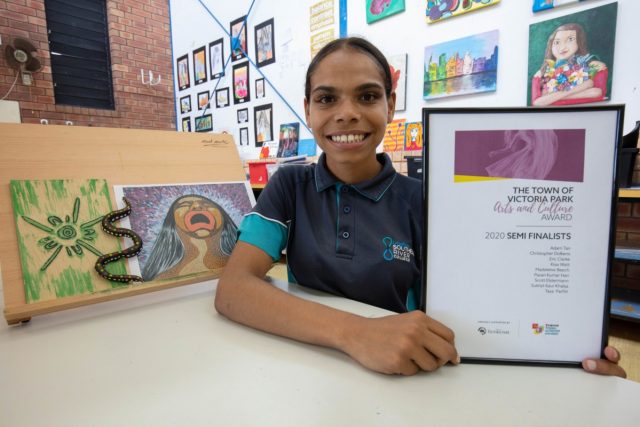 A seventeen-year-old girl from Gosnells, who continues to surprise the state with her indescribable passion for the arts, is now a semi-finalist in the Western Australian Young Achievers Awards.
Southern River College student Taya Parfitt has made her family and school proud with her continuous number of art accolades.
The young artist, who believed she couldn't paint, was motivated to grab a paintbrush by her arts' teacher Marc Bikim who saw her unique talent.
"When I first started working with Taya she was very shy and very hesitant to start painting, she had never painted before and thought she wouldn't be able to do it," she said.
"We had lots of discussions about what she would like to paint, what colours she would like to use and what ideas she would like to express.
"Eventually she picked up a paint brush and got started and once she saw what she could do, her confidence grew.
"As a result of her great involvement in art, she has won many awards and is now a role model for her peers. She is very deserving of this award."
When she started painting in Mr Bikim's class in 2017, Taya participated in the Young Australian Art Awards and was named Young Indigenous Artist of the Year.
In 2018 Taya's work was selected for display in the Young Originals Exhibition and not long after she was a finalist in the Young Australian Art Awards, and recognised for being an outstanding young artist and role model in the NAIDOC Awards.
Last year she continued her legacy by participating in the 2019 Young Australia Art Awards were she was runner-up Young Indigenous Artist of the Year for her painting Frog on the Lilypad and Echo Resources Indigenous Art Award Winner for her painting My Scream.
According to Taya's aunt Thomasisha Wareham, who nominated the young artist, Taya hasn't always had it so easy.
"Unfortunately Taya has not been given an easy path, Taya was placed in her grandparents' full-time care at the age of 12," she said.
"Over the years Taya has turned to the arts as a way of healing and expressing her emotions.
"Despite the difficulties Taya has been faced with, Taya is very determined to strive for her dreams and aspirations, and is on a pathway of a successful future which is amazing to see."
School staff said Taya's action and successes have inspired those around her with her peers also picking up a paintbrush and trying their hand at Aboriginal art.
Taya is now working on numerous pieces to complete her first full collection.
The Young Achiever semi-finalist will be judged for her artwork on March 18 with a gala presentation evening on June 5