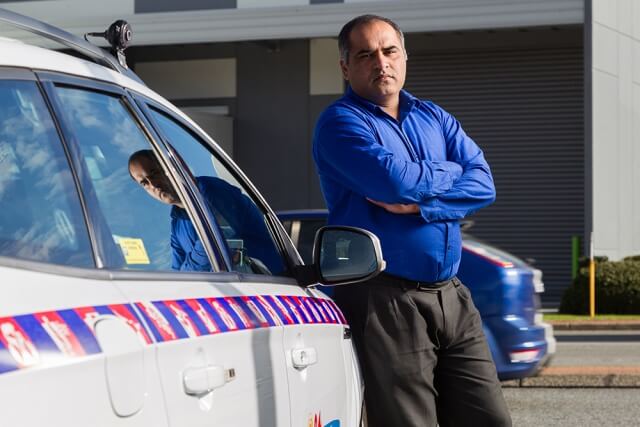 The State Government's assistance package for the taxi industry will not be enough to cover the exorbitant debts facing some plate owners according to a Maddington taxi driver.
The Transition Assistance Package, which was designed to help prop up the industry following Uber's launch in Perth in 2014 and Shofer in May, includes a $20,000 payment for each owned plate and payments from a hardship fund.
But taxi driver Jaswant Gill said that wouldn't be enough for people like him, who spent more than $300,000 on purchasing plates two years ago.
Mr Gill has been driving taxis in Perth since 2011 and had been paying to lease a plate.
He spent $307,000 purchasing his own plate in 2014 just prior to Uber's Perth launch with the help of a $210,000 loan believing it to be a good investment.
His debt now stands at $190,000 and with the arrival of Uber his wages from driving have dropped by at least $200 a week and his plate is worthless.
"I've lost income and no one wants to buy plates anymore but I still have to make repayments," he said.
"I also have to pay bank fees and maintenance on my car.
"I'm under so much stress that I can't sleep at night and sometimes I can't even drive the next day because I've had no sleep the night before and it would be dangerous.
"I think $20,000 compensation is a joke – it won't cover the costs."
He said the State Government should create two categories of payments, which could provide more compensation to people who bought plates more recently and had not had the time to pay off their loans.
Transport Minister Dean Nalder was not available for comment but a Department of Transport spokeswoman said the state had already committed $26 million to the package.
"There are currently 1035 owned taxi plates," she said.
"Estimated cost for the adjustment assistance is $20 million and $6 million has been allocated for the hardship fund.
"The hardship fund will be considered for Perth metropolitan plate owners who rely on taxi plates as a sole source of income and have suffered financial hardship arising from an inability to derive income as a result of the reforms; and for plate owners who suffered financial hardship arising from an inability to meet loan repayments of plates as a result of the reforms.
"Taxi lease plate fees have been significantly reduced with savings of more than $12,000 and there will be no increases in fees for country taxi-cars and taxi plate owners."
She said the State Government had also introduced reforms to the 'on-demand industry', which came into effect on July 4.
"From this date all new industry entrants are able to apply for the new Omnibus licence," she said.
"Omnibus licensed drivers and vehicles can legally operate and take fare paying passengers but not for 'rank and hail' jobs.
"Taxis will continue to have exclusive access to the rank and hail market."
She said the minister had also recently acknowledged that additional adjustment assistance may be appropriate for conventional and multipurpose taxi plate owners, funded by a levy on on-demand transport trips though the details of this were yet to be determined.
Member for Gosnells Chris Tallentire said more needed to be done to help the taxi industry particularly given that it had been subjected to years of regulation that had not impacted ride-sharing services such as Uber.
Last month the state opposition called for the state to commit to a $250 million package, which would include the $20,000 plate payments along with a $142 million for taxi licensees facing hardship and $98 million for transition assistance.