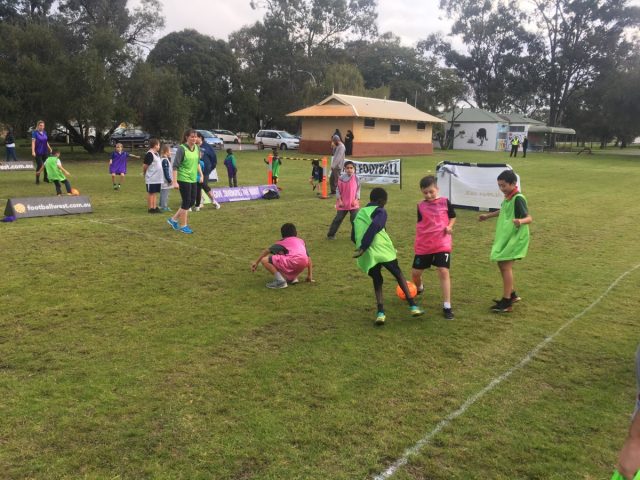 A new football competition will transform city streets after dark with an aim to improve youth social behaviour after school.
Football West has begun rolling out Street Football programs across Canning with locations picked specifically to draw in as many young people as possible.
Football West inclusive development officer Elmi Ali said as a local he understood the necessity of out-of-school programs for children.
"There are millions of kids in Australia without structured, safe learning environments between the hours of 3pm and 7pm , a time frame that local and state government agencies describe as the most dangerous hours for children and youth in our state," he said.
"More often than not in underserved communities across the state children walk out of school doors and into communities that lack resources for effective community programs, safe places to play, and willing and able adult mentors.
"Football West addresses this challenge by bringing our youth engagement programs to these communities."
After launching last year the Common Grounds program expanded through engaging with stakeholders this year with many more locations identified as areas where sports programs could have success.
Mr Ali said the program will be brought to those who were under-represented in the sport of football.
"Youth at risk and multicultural individuals are anecdotally under-represented in our sport despite being notable fans of the game," he said.
"Few are engaged in programs through our inclusive participation activities, a small number are active in clubs and others are occasionally active in informal social groups."
Mr Ali said the simplified street rules version of the game will make it accessible to as many people as possible.
"Participants are children and youth varying between the ages of eight and 18, the areas of deployment are areas identified by WA Police, local government youth services and various other non-government agencies," he said.
He also said he was confident this new program will have a healthy effect in Canning.
"The unorthodox power of street football to turn a violent, crime-ridden neighbourhood into a zone where calm, respect and friendly competition replaces the normal status and youths set up their own activities under any available street light with a ball and jumpers," he said.