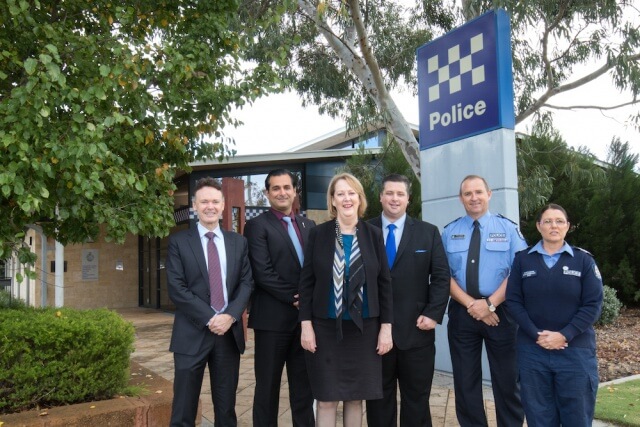 Police Minister Michelle Roberts was joined by local MPs on Wednesday as she announced extended opening hours for Canning Vale Police Station.
The hours, extended from 4pm to 7pm on weekdays, were part of the State Government's commitment to deliver more hours at Belmont, Canning Vale and Forrestfield police stations.
The increased level of service will aim to ensure the community has greater in-person access to police assistance.
Ms Roberts said she was pleased to make the announcement.
"By expanding the original 8am to 4pm opening hours we are providing local residents with more options to access police services," she said.
"Whether it is to report a crime or seek other police services the government is focused on delivering a police service that is responsive to community needs, reducing crime and delivering better response times and bringing more offenders to justice."
Canning Vale Police Station Senior Sergeant Shandell Castledine said the extra hours would allow people to report matters to the police after hours and seek police attention if required.
"Part of the service…is to provide our community with good service delivery in attending to their queries," she said.
Member for Southern River Terry Healy said Canning Vale Police Station was located on the border of three electorates.
"This is a great outcome for all residents in the south metropolitan region," he said.
"Residents have expressed their concerns about local crime to me and my fellow colleagues in surrounding electorates and I am pleased to see this election commitment being honoured so quickly by the government."
Member for Jandakot Yaz Mubarakai said the announcement should result in a stronger police presence and boost community safety in his electorate.
Member for Thornlie Chris Tallentire said he had campaigned hard to provide a better service to the residents of Thornlie.
"The government is committed to making sure people feel safe in their own homes and communities," he said.
Shadow minister for police Peter Katsambanis said people right across the Perth metropolitan region wanted to see more police patrolling the streets and not stuck behind desks shuffling paper.
"If Labor were serious about protecting our community they would be working to reduce paperwork and putting more police out onto the streets where they can provide a visible presence and more rapidly respond to stop criminal activity," he said.
"The Police Union has criticised the government's proposal to turn more police into administrators because their members know the most effective way to keep our community safe is to have more police resources committed to the front line."