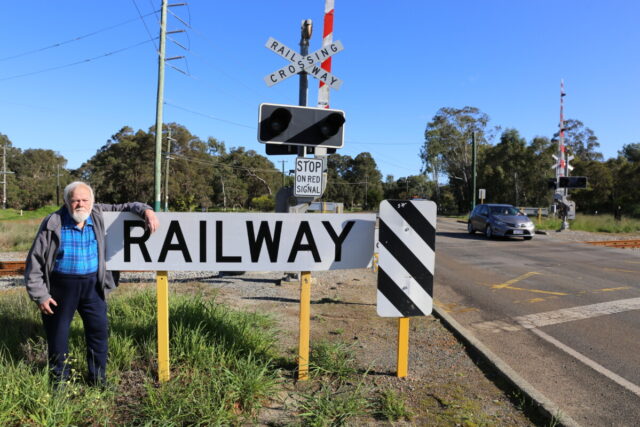 Darling Downs resident Ken Brown is concerned the state government's plans for the Eleventh Road level crossing is putting "dollars before lives".
Eleventh Rd is one of eight level crossings that will be removed as part of the eight-kilometre Byford Rail Extension, due to start at the end of this year.
The plan is to replace the level crossing with a road bridge over the rail line, which is also proposed for the nearby Thomas Rd level crossing.
An elevated rail viaduct is proposed for all Armadale town centre level crossings up to Church Avenue.
And level crossings at Byron Rd and Larsen Rd will be closed and not replaced.
Mr Brown said up to 90 families in the Claire Morris Estate could potentially be put at risk when the level crossing is closed for construction.
The closure of the road would force anyone driving out of the estate to exit onto the South Western Highway from Eleventh Rd instead of the alternate Wungong Rd route.
"That intersection cannot deal with that sort of increase in traffic – there will be an accident there, no doubt," Mr Brown said.
"I don't ever exit via the SW Highway unless I have to – it's 80kph there both ways."
Mr Brown said with the additional closure of the Byron Rd level crossing, even more traffic from the nearby industrial estate would be forced out onto the SW Highway.
He believes there is a relatively simple solution to this problem – installing a set of traffic lights at the intersection.
"But it has to be permanent, and it needs to go in before work starts," he said.
In a response to his queries, the Department for Transport said there had been a site inspection to review "signage, sight lines and driver behaviour" in December 2022 and Main Roads deemed there to be no issue at the time.
"In the five years to 31 December 2021, Main Roads' crash records show there have been four recorded crashes at this intersection. Based on the crash frequency, the site is ranked 2936 in the state, indicating there are 2935 other intersections that have a higher crash frequency," a spokesperson for the department wrote.
The department said Main Roads would continue to monitor the intersection as traffic increases during the construction phase.
But Mr Brown remains convinced traffic lights are needed to avert future crashes.
"Someone will get killed there mark my words," he said.
He's equally concerned the proposed road over rail option will create a potentially hazardous situation in bushfire emergencies, with the new bridge obscuring the western exit of the crescent-shaped Bruns Drive. The estate overlooks the Wungong Regional Park.
"As bushfires will be on the eastern side of the estate, this means residents will have to drive into embers and thick smoke and, in the worst case, flames to evacuate," he said.
He said in a community meeting with Metronet in January this year attending residents of the Claire Morris Estate unanimously voted for a 'rail over road' option.
When he asked why road over rail was chosen, he was told in writing by a spokesperson for the Department of Transport that there was a "combination of factors" at play, including "high groundwater level, maintenance challenges, noise impacts, as well as the significantly higher cost of alternatives".
"A road over rail solution has a much smaller visual footprint for the surrounding area, offers better value and has a shorter construction period," the department wrote.
They also said that after consultation with local government, and the Department of Fire and Emergency Services it was determined that the western entrance to Bruns Drive would be "maintained for emergency egress in the event of a bushfire".
But Mr Brown doesn't believe that is a workable solution, especially for those needing to tow trailers or caravans.
"I've been associated with bushfires for most of my life, including dealing very closely with people who lost everything in the Kelmscott/Roleystone bushfires. I know what can happen, and I would not want to see it happen here," he said.
"But it could."
Examiner Newspapers contacted Metronet for comment but did not receive a response by time of printing.