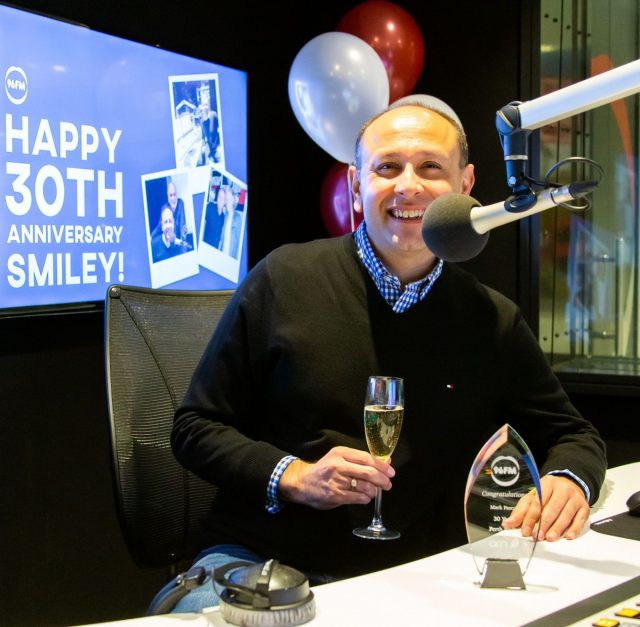 Earlier last week Canning Vale resident Mark 'Smiley' Pascoe celebrated a milestone of 30 years in Perth radio.
Ever since he was 12 years old, the radio broadcaster at 96FM's weekly morning show knew he wanted to do radio for the rest of his life.
"When I was 12 years old, my dad took me to the Claremont Showgrounds, where Lionel Yorke and Gary Shannon were broadcasting live, and right at that moment, I knew that was what I wanted to do for the rest of my life," he said.
"After leaving school I studied at the WA Academy of Performing Arts, which led to my first job at 6MD in Merredin and there was no turning back.
"I truly believe I have the best job in the world.
"Every day I get to have fun playing four hours of great music and we get to change people's lives."
On June 25, colleagues and friends at the station organised a huge surprise celebration for Smiley who seemed to have forgotten about it on the day.
Smiley then realised something was up at the station when he noticed they had literally rolled out a red carpet for his arrival, followed closely by balloons, bubbles and a cake.
Some of the most memorable times for Smiley throughout the 30 years was when he was presenting a radio dating show.
"Back in those early days, I was presenting a radio dating show, and one of the contestants was to become my future wife," he said.
"This year Shelly and I have been married 27 years and we have a 22-year-old son called James."
In 2012 Smiley took his morning show to number one for the first time on 96FM and in 2019 he lifted the morning ratings from a 9.2 per cent to a 15.9 per cent share.
The celebrations at the station will continue as they are about to celebrate their 40th anniversary on August 8.