A local family has honoured their late uncle and Broome Football coach Brett Claudius' legacy by collecting 500 pairs of pre-loved and new football boots for children in the Kimberley.
Mr Claudius was Western Australia's football commission development officer and coordinator for Garnduwa – a not for profit organisation that promotes and supports sport and recreation in the Kimberley.
Sixteen-year-old St Norbert College student, Holly Giles and her 13-year-old sister Zoe along with their brother Chad, kicked off a Footy Boot Drive to honour their uncle's good work for the people of the Kimberley.
As they prepare for a school 'immersion' in the Kimberley from September 11 to September 17, the girls went ahead and handed about 80 pairs of boots to the chief executive officer of Garnduwa last weekend.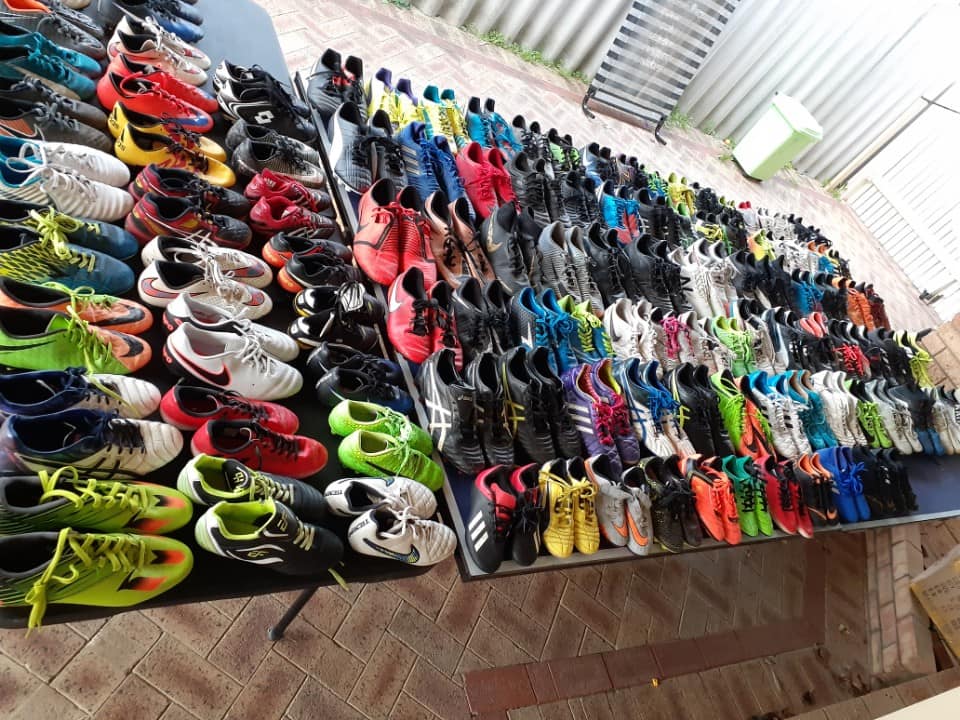 Mr Claudius' only sibling, Lisa Giles, said her brother demonstrated how easy it was to reach out and help other people.
"We are never too busy to speak to others," she said.
"Brett thought about others and what he could say and do daily to influence them.
"St Norbert always talks about being prepared for all good works and that was very much what Brett did and what we are trying to convey through the Brett Claudius Kimberley Foundation and through Brett's nieces and nephews."
Ms Giles also said her brother would be overwhelmed by the amount of attention his name was getting in the community.
"I think he would call me up every day getting excited about the progress," she said.
"He would also think the work he did to help others was not work, it was living.
"I do know that Brett would be very thankful for the handful of his friends who have supported the kids and myself throughout our journey of grief and stepping forward into this journey of creating a legacy.
"Connectivity, kindness and compassion are three things that drove Brett to successfully helping others and they are also the things some of Brett's friends have done to assist us with the boot drive."
Some of the sporting clubs participating in the boots drive, include Huntingdale Junior Football Club, Subiaco Football Club, Willetton Junior Football Club, the Southern Districts Touch Association and the Maggies Netball Club.
Last week Subiaco Lions' football manager Michael Farmer and WAFL player Rowen Powell arrived at St Norbert College with a box of 30 footy boots – some worn in premierships.
Hundreds of pairs have been donated to their cause so far, including the latest additions worn in WAFL Grand Finals by Subiaco's Rhys Waters, Kyal Horsley and Gus Litherland.
"We would do anything to help to continue Brett's name and legacy,'' Mr Farmer said.
Michael Farmer is a passionate support of the project having worked with Mr Claudius for seven years in the North-West.
"What he was doing for people in the Kimberley was amazing.''
Ms Giles said the main goal was to create a foundation for the future which will continue to assist Indigenous people in the Kimberley.
"We have many ideas to work on such as memorial games and carnivals and also the possibility of awards and scholarships in the future to promote health, wellbeing and football development," she said.
"He would be so proud of the kids helping others and supporting everything Brett worked towards.
"He was a very proud uncle already."