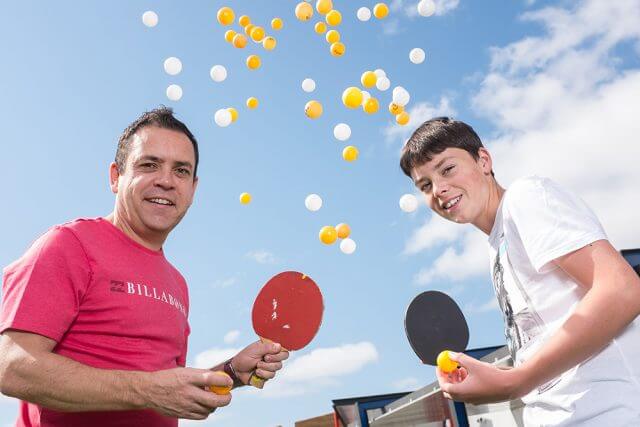 Boys and men of all ages across the country will be gearing up for a fundraising event with a difference this weekend.
Forty-four venues around Australia will host the 2015 ping pong-a-thon, a 24-hour table tennis event spreading the message of trafficked or exploited young people.
Participants were committed to play the sport for a minimum of three hours and engage family and friends to sponsor them.
Organiser Martin Dodge was coordinating the Canning Vale ping pong-a-thon and said raising awareness about international human trafficking was critical in helping victims of the 'industry'.
"When you live in a comfortable part of the world you can put it to the back of your mind but the injustice of human trafficking is a global issue, not just something in south-east Asia," he said.
"There are a number of not for profit partners for the national ping pong-a-thon and funds will spread across all of them including Destiny Rescue, who predominantly rescue and free children in Laos from the sex trade.
"They assist children who have been rescued by providing them with counselling, medical care and education but interestingly enough, one of the goals of their fundraising at the moment is to secure motorbikes, which they need to actively rescue the kids.
"These people put themselves on the frontline and at risk to save them by jumping on the bikes, going straight to the location of where these children are enslaved and whisking them away to a safe haven."
Mr Dodge said this year he hoped the Canning Vale event would raise more than $4000.
More than 20 people have signed up so far and any blokes interested were encouraged to register.
In its first four years, nationally the event has raised more than $200,000 and given men and boys a sense they can make a significant difference in the world.
The ping pong-a-thon will start on October 9 and conclude on October 10 with music, a sausage sizzle and children's activities.
It will be held at the billabong community centre, 40 Liffey Street, Canning Vale.
Visit pingpongathon.com to register. For information on human trafficking and exploitation visit destinyrescue.org/aus/.