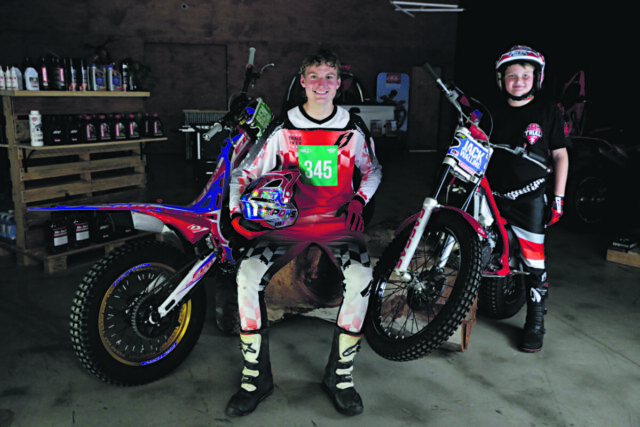 Ben Walling and his brother Jack stand on the precipice of Moto Trials greatness.
The Cardup boys have already reached the pinnacle of their sport in Australia as age champions.
But coach and Moto Trials legend Neil Price said they both have the potential to reach the World Championships.
"It's rare to find local kids with the promise, drive, determination and willingness to put the work in that these guys show," he said.
Fifteen-year-old Ben recently had his first taste of international competition when he competed in Trial 3 of the FIM Trial World Championships in Spain in April where he came in 14th place.
"To make it inside the top 20 is a big effort," Neil said.
"You need to train at least five days a week to reach this level."
The boys' Mum Leeann Walling said when Ben isn't riding, he's usually working on other translatable skills.
"They put everything into this. He's up at 6am every morning doing balance training," she said.
In spite of the passion and determination the Walling brothers show, something outside their control threatens to derail their efforts.
Until last year the pair trained at the Immediate Metals Quarry in Jarrahdale, culminating in their respective wins at the Australian Trial Championships at the same site.
It had the perfect combination of vertical rock formations to challenge riders of all skill levels, and many trial riders speak of it fondly.
But training at the quarry is now no longer an option, and if a suitable alternative is not found soon then their ambitions of world domination could fall to the bottom of the heap.
"If I can't train then I can't get better. And if I can't get to the level, I need then my dreams are over," Ben said.
Eleven-year-old Jack will be impacted too.
"At the moment I can train at home. But soon I'll be able to do everything and I'll need more," he said.
"[Moto Trials] means a bit to me. I could make a living out of this."
Parents Leeann and Frank said it would be devastating for this to be the end of their journey.
"After all the time, effort, and money we've poured in, and also the passion and determination the boys have showed, it would be absolutely heartbreaking. Ben wants to be world champion," Leeann said.
So, the hunt is on for a piece of land that they can maintain as their hub.
Neil says they don't require a large tract of land; Moto Trials is slow and controlled – like "parkour on a motorcycle".
"It has a low impact on the environment compared to other motorbike sports, and it has a lower impact on riders too," he said.
Frank says the perfect patch would be natural terrain – steep and rocky.
"We want the bits that farmers fence off and don't use because they can't do anything with it," he said.
He said he's happy to sign indemnities and waivers, and happy to pay fair compensation.
"We're not there to hurt anyone, just improve our skills," he said.
Member for Darling Range Hugh Jones who attended the national competition last year is happy to help advocate for the boys and for the sport.
"I am interested in raising the profile of the sport in WA and seek opportunities to integrate trials riding in existing and proposed off-road venues. I also hope local landowners might consider making their own properties available to the Walling boys to expose them to new and increasingly difficult obstacles, allowing them to further improve their skills to become internationally competitive in this incredible sport," he said.
"I want to see the people in our electorate, especially young people, realise their potential, and be recognised for their achievements. The Walling family has invested a great deal to give their boys the opportunity to succeed, and I want to help them go as far as they can in their chosen sport. Who wouldn't want to be part of the backstory of a world champion?"
"With local clubs and the 2018 and 2022 events held in Jarrahdale showing popular support, I believe the sport has great potential in Darling Range and the state."