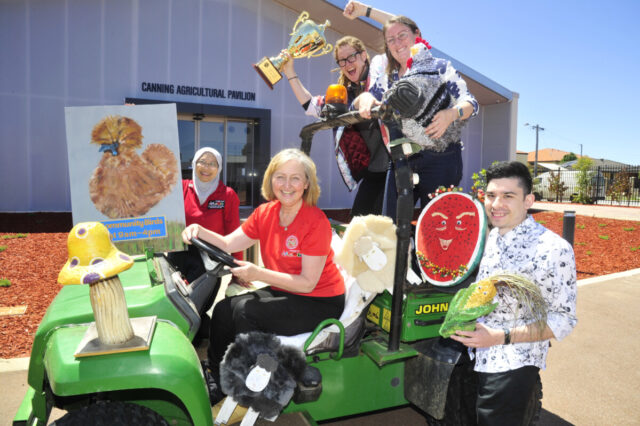 This year's Canning Show will be the biggest following the $10million upgrade to facilities.
It will see the launch of numerous additional venues, opening new opportunities for entertainment, education, and community enrichment, and beginning the next evolution of Canning Show.
Canning Agricultural, Horticultural and Recreational Society president Maxine Wiley will formally open the Canning Agricultural Pavilion on the show's opening night next Friday.
"It is a project that has been nearly 20 years in the making and achieves CAHRS' ambition of having a permanent home for home garden gurus and amateur cooks," she said.
The building will hold flower and fruit exhibits, herbs, home cooking projects and other daily exhibits during the show, and community-driven events throughout the year.
"As well as allowing the Canning Show to continue expanding as one of WA's premiere events for all-ages, these developments will see Cannington Exhibition Centre add significantly to their already 450 events a year," show marketing manager Aarom Wilson said.
"This enrichment of the community is what our organisation is committed to, so we're proud to launch a bright future at this year's Canning Show."
As well as the pavilion, the Canning Show will also introduce a new market hall and the Canning Central outdoors lawn area.
There will be two days packed with fireworks, sideshow wonderland rides, carnival games, the Stay & Play Zone, show bags, farmland animals, food world, music, face painting, pony rides, performers and much, much more.
Much of it comes free, included with tickets.
Plus, if you are a Canning resident or ratepayer, you can get 50 per cent off ticket prices.
To receive your discount, visit the Canning Show website, the offer is only available for a limited time or until ticket allocation is exhausted.
Tickets are strictly limited but additional tickets can be bought.
With parts of the showground closed for construction for many years, visitors to the show will now be able to view the completed showgrounds in all of their glory.
For more information, visit canningshow.com.au and for ticketing queries, contact City of Canning on 1300 422 664.
The show is on Friday and Saturday, November 3 and 4.