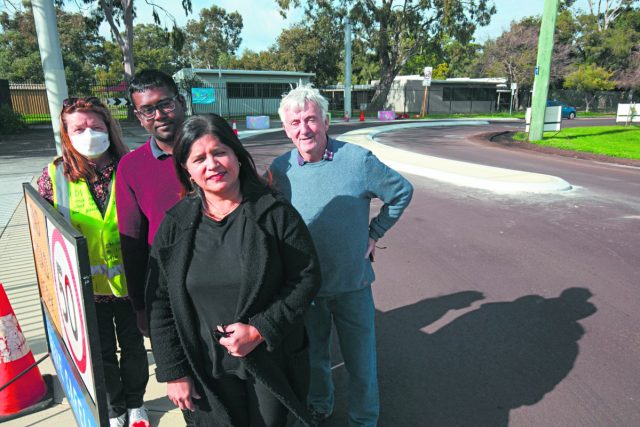 Gibbs Street and East Cannington residents are calling on the City of Canning to urgently review the safety upgrades to the street, which they believe pose the risk of injury to pedestrians and motorists.
The two-kilometre stretch of Gibbs Street from Railway Parade to Welshpool Road has been the subject of extensive works, budgeted at $1.3 million, that have befuddled local residents.
The works began on May 5 following an extensive public consultation project the city dubbed 'What Gibbs', described as an initiative to encourage the community to take ownership for shaping the 'what' of Gibbs Street.
The city door-knocked the entire Gibbs Street and received 107 survey responses, with 53 per cent of the respondents living on Gibbs Street.
Landscaping is scheduled to be completed by August 5, with Main Roads WA to then complete line markings and signage works.
At points, the street has been significantly narrowed, with islands placed roughly one foot from the curb making it difficult for even small cars, driving in opposite directions, to pass each other.
Troy Panizza has lived in East Cannington all his life, and he uses Gibbs Street every single day on his way to work.
He understands what the city was attempting to do with the roadworks – reduce vehicle speed – but believes the city has just got it wrong.
"I'm not normally someone who would voice my opinion on anything like this but it's upsetting, considering the changes they've made.
"I feel like I'm going on a rollercoaster every time I go down Gibbs Street.
"It's quite dangerous, going over the speed humps it's very, very tight for two cars to get through, if you've got anything larger than one of those small utility cars it makes life very difficult.
"I don't really understand the upgrades at all to be honest, even where the signs are up, they're regularly ignored and I've nearly had so many accidents just on the corner of Stephen Street and Gibbs Street.
"You can see what they were trying to do, but whoever wrote the plans or whoever executed the plans had probably never been to the area before.
"There's so many speed bumps and islands that it's just made it more dangerous."
Long-time East Cannington resident Des Bowers has never been one to take a backward step, and he believes the council is living in a different world.
"They haven't thought about children at that school and the public, it's all academic stuff, the engineers just aren't tuned into the people.
"When it's pouring you just won't see them, and if emergency services need to get down here, there's going to be an accident.
"The council need to come down to earth and come down to Gibbs Street and see what's going on."
Shouvojit Sarker lives on Gibbs Street, just up from Gibbs Street Primary, and he believes the safety upgrades have made the street more dangerous.
"I think a lot of Gibbs Street residents would say the street was better before the upgrades," he said.
"It was wider, two cars could go side by side, now it's very difficult for cars and I can see some sort of accident happening to be honest.
"The narrowing of the road is the main concern of the residents.
"I'd like the Mayor and our Mason Ward councillors to come down here and look at what is actually going on, door-knock a few houses and ask the residents.
Canning Mayor Patrick Hall said the city had received three written complaints regarding worksite traffic management.
"As the site has undergone significant change, it is understandable that some road users may find the site difficult to navigate during the period of works," he said.
"As with all worksite traffic management installations, they are required to be monitored and adjusted to site-based conditions as works evolve."