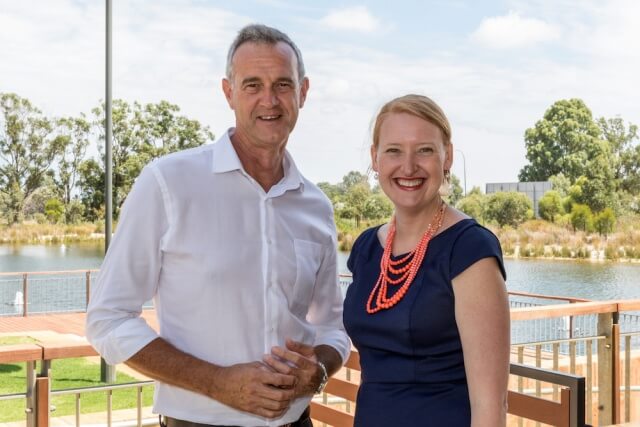 A re-elected Liberal government has pledged $2 million to build a Darling Range community centre ahead of the March 11 state election.
Planning Minister Donna Faragher joined Member for Darling Range Tony Simpson on February 14 outside the Strand Café in Byford where they made the announcement.
Mr Simpson said the population of Byford was growing and one of the key things needed was a community centre with access to facilities.
"I am really pleased with this announcement," he said.
"There is currently no such facility available in the area and the proposed centre would be well placed among new houses and in the heart of the community.
"This hub will bring the community together offering different groups an invaluable service."
Ms Faragher said the proposed community centre would be a multi purpose facility and open to people of all ages.
"Facilities like the community hub would bring people together," she said.
"People who are isolated can come together.
"It is all about the community."
Labor candidate for Darling Range Barry Urban said community development in a rapidly growing area like Byford was very important.
"WA Labor will get the ball rolling on the Mundijong Regional Sporting Complex," he said.
"$20,000 will go towards extending the Byford Youth Zone and extending the Armadale line to Byford.
"If elected I will consult within the community to identify the other priority projects and will be guided by that consultation as to what the community would like to see progressed first."
For more state election stories and candidate profiles click here.