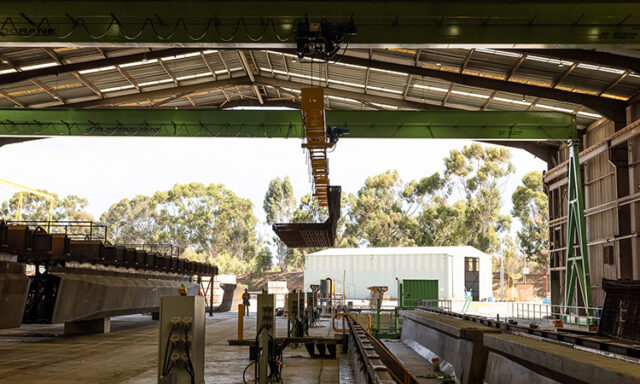 Preparation to remove the Victoria Park-Canning level crossing has reached a critical milestone, with the entire overhead rail structure now complete.
The overhead rail will be more than 4km long and made up of more than 500 precast L-beams.
The first L-beam was completed in late 2022, with each beam weighing around 130-tonnes, including about eight-truckloads of concrete and 13-tonnes of steel.
During the project, the beams will be transported from two sites, to the Armadale train line corridor, and lifted into place by custom-made gantry cranes, imported from Italy.
Four custom-made gantry cranes will be in operation on sites to install the L-beams.
L-beam pairs will be joined together to form a trough for the trains to run on the line.
The upgrade of the 130-year-old Armadale train line, will see seven new stations built with an extension to Byford.
There will be 13-level-crossings removed with about 6ha of public open space turned into new public amenities.
The METRONET Thornlie-Cockburn Link will also be completed during the shutdown.
Two new train stations are being built along Nicholson Road and Ranford Road; and the delivery of the first east-west rail link connecting the Armadale and Mandurah train lines.