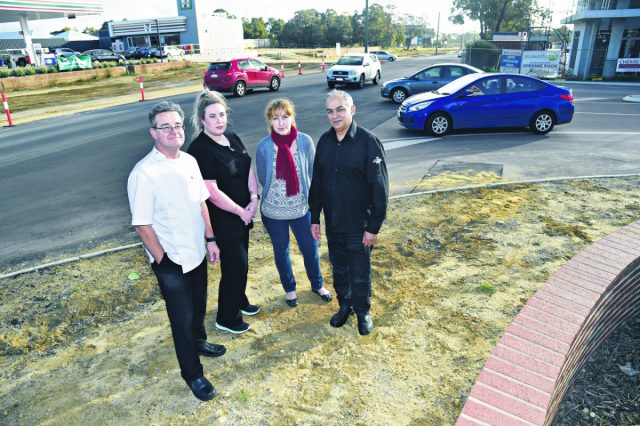 Large potholes outside Byford Village Shopping Centre, which have caused headaches for motorists over the past few weeks, have been filled in thanks to a brief patch of fine weather this week.
The remediation work was completed on Monday after repairs had to be delayed last week due to bad weather.
However business owners and managers at the shopping centre on Abernethy Road questioned the timing of the repairs and why they hadn't been done sooner.
On Saturday August 4, despite the rainy weather conditions a Coles team member, at the request of a Shire council worker, stood out the front of the shopping complex to direct motorists around the potholes that ravaged the entrance and exit ways.
Priceline Pharmacy owner Bret Lewin, Beauty Bar Byford manager Jessica Mullins and Coffee Club Byford franchise owner Shirley Britto all agreed that each of their businesses had been affected prior to the potholes being fixed and on Monday morning when the road was being repaired.
Mr Lewin told The Examiner the damage to the road's surface had been an issue for at least a year and wasn't caused by just the recent heavy rainfall, which is what the Shire cited as the initial reason.
"It should have been fixed months ago," he said.
"Fixing it in prime time on Monday morning caused us to lose at least 30 per cent of our trade for the day… realistically it should have been fixed at a quieter time either at night or on a Sunday."
Ms Britto said her business at Coffee Club was not only affected on the Monday but also over the weekend when customers couldn't get in and out of the shopping complex.
"We were down about $500 or $600 in sales on Saturday alone," she said.
"A lot of our customers have told us previously that they'd rather not come to the shopping centre unless they really have to because of the potholes."
Shire president Michelle Rich said ongoing maintenance would continue along Abernethy Road while the redevelopment progresses.
"The widening and stabilisation of Abernethy Road will provide a long-term solution to these kind of issues, supported by improved drainage that will ultimately reduce the need for short-term remediation works," she said.
She urged the community to report any issues on local roads to the Shire.