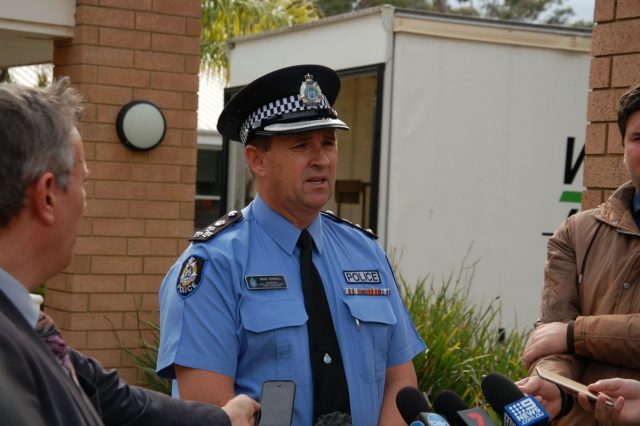 A body believed to be that of 65-year-old dementia sufferer has been found more than a month after his disappearance, according to WA Police.
Armadale district superintendent Brad Sorrell announced a road worker had found the body near the intersection of Hakea Road and Albany Highway in Ashendon at approximately 9.46am Thursday morning.
Albany Highway has been closed as Police commence 'due diligence' in searching the area and performing forensics.
"We are yet to confirm, but we do believe it to be the body of Ian Collett," Supt Sorrell said.
"We do have officers with the family of Ian Collett at the moment, so we ask that you respect their privacy. We are yet to completely confirm, but we do believe that the body is that of Ian Collett."
The body was found about four metres from the road this morning by workers who were performing road maintenance in the area.
Supt Sorrell said the area had previously been searched, but the body was found in a hard-to-reach area blocked off from view.
"The West Australian Police searched a very large area, there was over 186km worth of road searched and more than 10,000ha of land. Sadly, we didn't get the outcome we wanted by finding Mr Collett alive," he said.
"At this stage we are satisfied we followed all of the laws and regulations in terms of searches. We are confident the search was extensive as possible."
Friends and family lost track of Mr Collett after he left his Canning Vale home at about 12.15pm on Saturday may 19.
Examiner Newspapers reported Mr Collett's disappearance in May, and the concerted effort on behalf of police and the community to locate him.
Supt Sorrell said counselling would also be extended to those workers, and that the discover is a tragic reminder of the issues facing the family of dementia sufferers.
"The tragic situation this morning reminds everybody of the circumstances the families of dementia sufferers have to face," he said.
"In that, there's lots of things [those families] can do in terms of considering trackers and such.
"But in this particular occasion, the family have done everything they could.
"They're a very caring family and from the WA Police, our heart goes out to them at this time. We're there for them. "
Supt Sorrell also thanked volunteers, SES personnel and the community for their input in what was an extensive search.
"There was a significant investment on behalf of the West Australian community to try and find Mr Collett alive," he said.
"Unfortunately that isn't the case. We will now prepare a report for the coroner."