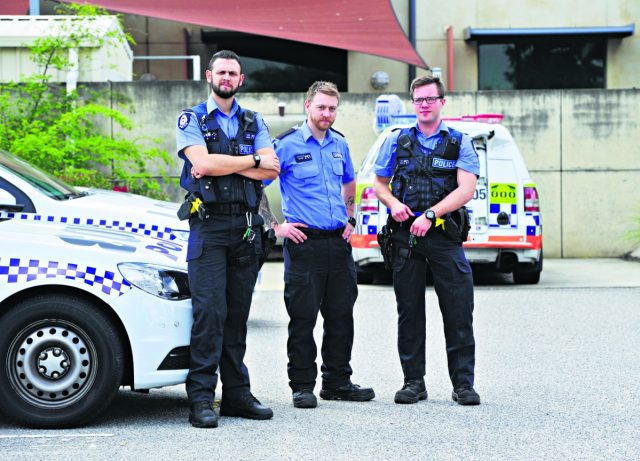 Within six days, Cannington Police arrested 38 people, urging courts to hand down a total of 76 charges.
It is what has become just another regular week for the police district, which has had consistently high numbers of arrests on a weekly basis for months.
The Examiner has reported on the high arrest rate on multiple occasions, yet the breakdown of antisocial behaviour, drug supply and traffic offences continues.
The arrests are occurring at various times across the region, with traffic and street side stops leading to as many arrests as search warrants on houses believed to be harbouring illicit drugs and firearms.
Reports covering last week show individuals being arrested multiple times in a matter of days, with some breaching bail and charged with theft just days after their first arrest.
Kensington OIC Senior Sergeant Glen Boros said the arrest rate has become typical for the area.
"This is pretty regular week for the station," he said. "The officers here are very motivated to prevent crime and to apprehend offenders when offences have been committed.
"As recently as Monday, 11 people were charged for 15 stealing offences, three people were charged in relation to 27 fraud related offences.
"On patrol we caught and charged nine people for trespassing on other people's property, six people were found in possession of property believed to be unlawfully obtained and we apprehended three people for offences relating to window washing, which is causing motorist considerable annoyance and apprehension."
In response, Cannington Police have adopted a number of ideas to tackle the three biggest offences in the area: stealing from vehicles, stealing from homes and credit card fraud.
Cannington District community engagement coordinator Sergeant Matt Sharp said it has meant having to adopt a holistic approach.
"Cannington District Forensic Investigation Office recently commenced a pilot program to provide rapid intelligence from crime scenes, particularly stealing from motor vehicles which assist in the identification of offenders," he said.
Part of this campaign has involved drivers themselves, with some taking the lengths of using specific signs to ward off potential thieves.
"No one wants to be the victim of a crime and unfortunately nowadays opportunistic offenders see your vehicle as a "shop window'," Sgt Sharp said.
"Footage shows it takes well under 60 seconds to smash a window and grab that wallet containing 'tap and go' cards left in full view.
"Even in broad daylight, and in a busy area like a café strip or shopping complex car park, an item left in sight like a mobile phone, a pair of sunglasses, or even a few coins are too much of a temptation for some offenders."
Police urge all Canning residents to ensure their valuables are secure, and to present no possible targets to those who might be casing vehicles and homes from the street.