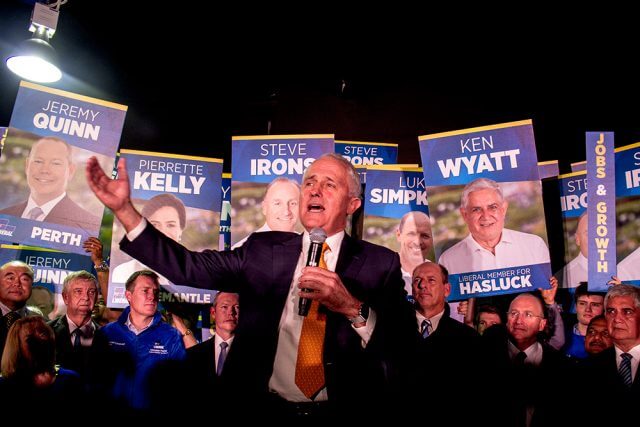 The Liberal Party upped the ante in the new political hot seat of Burt this week by sending out Prime Minister Malcolm Turnbull to rally behind candidate Matt O'Sullivan at his Maddington campaign office on Tuesday.
Not to be out done, Opposition Leader Bill Shorten joined Labor candidate for Burt Matt Keogh in the Jull Street Mall in Armadale on the same day, in what was Mr Shorten's second visit to the electorate since the federal election campaign began.
More than 500 of the Liberal faithful including all WA federal Liberal politicians except Finance Minister Mathias Cormann and Women's Minister Michaelia Cash turned out to the joint campaign office of assistant health minister Ken Wyatt, Senator Linda Reynolds and Mr O'Sullivan for Mr Turnbull's visit.
Flanked by his WA team and Liberal followers Mr Turnbull reaffirmed his party's message that the Liberals' economic plan was about jobs and growth.
"What I am about to say to you is something that all sides of politics used to agree on, that is simply that if you lower the tax on business you improve the return on investment, therefore you get more investment, more jobs, you get better paying jobs and you get stronger economic growth," he said.
"You know that, we know that, Bob Hawke and Paul Keating knew that too.
"Bill Shorten even knew that a few years ago.
"Chris Bowen was shadow treasurer, is now the scourge of business, he knew it so well , he was so impressed by its wisdom he wrote a book about it. And now they disavow.
"We know the key to continuing growth is backing business and we start off with small and medium business and we do that because we know they will react most quickly. As they can retain more of their earnings, they will invest more, they will employ more. It builds up their confidence, it makes them more competitive.
"So right across the board every element of our national economic plan is focused on jobs and growth. When we invest in infrastructure and we are investing $3.4 billion in infrastructure in this state, we do so in a way that we know will drive economic growth and greater opportunity.
"Every element of our plan will deliver stronger growth, more jobs and above all it is affordable."
Mr Turnbull said the Liberals would win the July 2 election because it supported people, enterprise and innovation.
His rally speech was met with cheers and applause from his adoring crowd.
State politicians did not attend because parliament was sitting.
Mr O'Sullivan was pleased to have Mr Turnbull in the electorate and said it was 'wonderful to stand amongst giants'.
The seat of Burt was gazetted in January and takes in parts of the cities of Armadale, Canning and Gosnells.