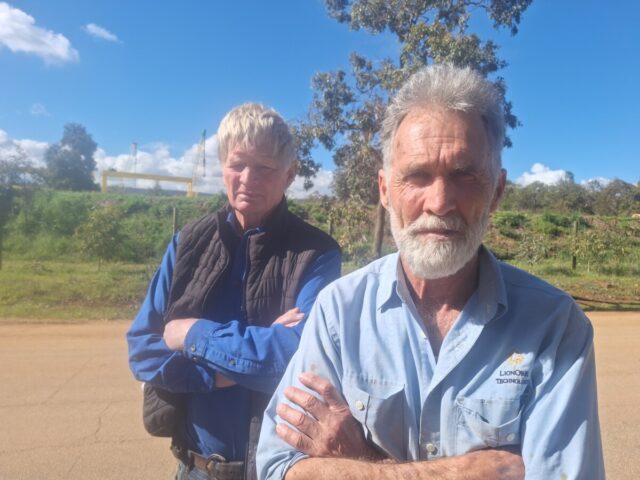 The local company contracted for cement formwork on the imminent Byford Rail Extension has been told to clean up its act by the state environment regulator.
Under the Department of Water and Environmental Regulation's (DWER) Prevention Notice which was served to Cardup-based Permacast last week, the company must fix contaminated stormwater and wastewater containment, and stop using machinery or vehicles which are currently causing noise and dust pollution to nearby properties.
The notice comes as vindication for Permacast's neighbours who are reaching breaking point, saying levels of noise, dust, polluted water run-off, and traffic from the concrete plant are seriously affecting their lives.
Norm Anderson is a farrier who lives directly opposite the plant on Soldiers Rd.
There's approximately 100m between the boundary of his property and Permacast's.
He's owned his Cardup property for nine years, but has lived there himself since 2020. When he moved in, life was peaceful. But now it's anything but, he says.
"This Summer, when the strong easterly winds blew in, the dust in my pool was that thick I had to hand vacuum it out because the pool shark couldn't keep up. We obviously couldn't swim," he said.
"We had to close the vents to the house, so there was no fresh air.
DWER photographs provide proof of the dust problem.
"And recently the noise has been unbearable. It's so bad that I've had to turn my tv right up just to watch the footy. That's with all my doors and windows closed," Mr Anderson said.
He's worried the lack of sleep from the persistent noise will affect him at work.
"I can't go to work around horses when I'm that tired – I need to be alert," he said.
Neighbours to the plant have made several complaints to the Shire of Serpentine Jarrahdale from March this year about an inescapable vibration, which accompanies a low droning sound.
The noise and vibrations are believed to be coming from newly constructed 'stressing beds', which officers from Serpentine Jarrahdale Council have said the company does not have permits for.
Residents have said there have been times when the noise started up well before dawn, including on weekends, and carried on throughout the night.
Keila Pilay is another Soldier's Road resident who says the noise is affecting her work.
"I work at Armadale hospital with vulnerable patients that I have to be able to give 100 percent to. I can't do that when I'm woken up over two hours early by heavy machinery noise pollution," she submitted in a public statement to council.
"My home is meant to be a place of calm and serenity especially after a long day looking after sick patients. Now, I don't want to come home. My home is a place of distress and anxiety."
Karen and John McEwan live right next door to Norm Anderson. They have lived at their property for 23 years. Ms McEwan said the vibration has a serious effect on her health.
"When the vibration comes on, I immediately get a headache and start to feel a bit sick," she said.
"My neighbours over the back have said to them it sounds like being inside an aerodrome with a helicopter that never takes off.
"It just completely drives you insane."
Maureen Tucci has recently had a cardiac ablation – a procedure used to correct heart rhythms. She is worried the vibration, which she says shakes her windows, could throw her heartbeat out again.
"My heart starts to beat in time with the vibration, thus weakening over time," she wrote in a public statement to council.
DWER inspectors who visited the site in July noticed "newly-constructed stressing beds" in the area of the site nearest Soldiers Rd, which emitted a noise and vibration that caused "physiological health impacts to the inspectors".
The affected Cardup residents have said the conditions are causing a deterioration in their mental health too.
"And it's causing relationships problems," Mr Anderson said.
"People are wanting to sell up and go. But I love my place. I love the area. My work is here, and I'm too old to pack up and leave."
With neighbouring properties on bore water, there are further concerns that the company's inadequate storage and disposal of polluted water is affecting the locals' water supply.
The Prevention Notice outlines evidence of stormwater "contaminated by cement materials" being discharged into an "unlined basin" which is flowing onto surrounding areas.
The company has six months to line the basin, and prove its effectiveness in the event of a '1 in 100 year' storm. They must also prove that the bottom of the drainage basin is at least two metres above the groundwater table's maximum height.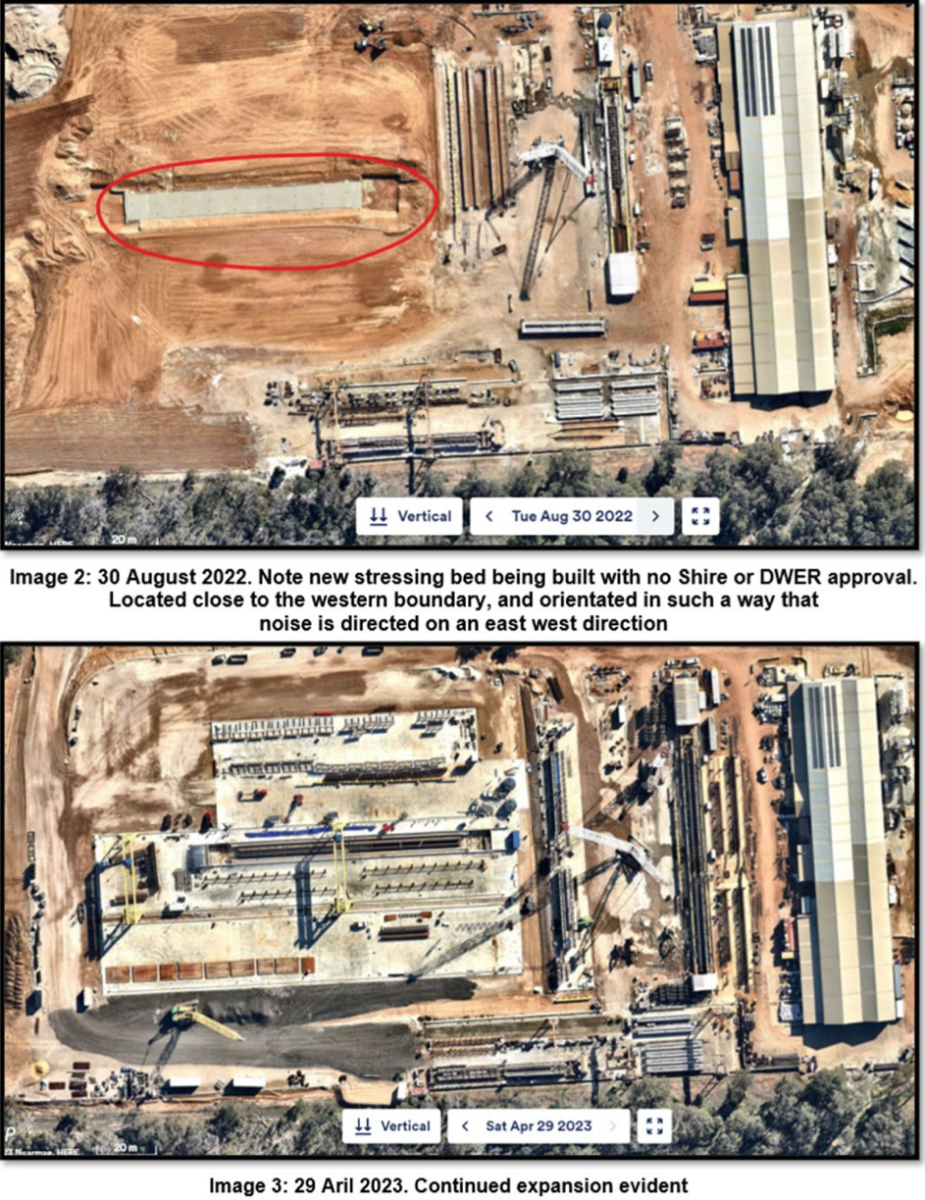 In a further turn of events, on Monday council will decide whether to advise the Metro Outer Development Assessment Panel (MODAP) to approve Permacast's retrospective development application (DA).
Expansion works that have already been built at the plant without permits include a large concrete manufacturing shed, four stressing beds and associated gantry cranes, administration buildings, and a stormwater retarding basin.
The retrospective DA was received after council acted on resident complaints in early March and requested that operations stop until they had DA approvals.
"It is noteworthy, upon review of aerial photography, to see the unlawful development that has occurred and which coincided with the documented complaints," council officers said.
After a lengthy and peer-assessed review, council officers have recommended that Permacast's application be refused.
Their decision is based on several factors, including the company's application to produce approximately 73,000 tonnes of concrete products annually – operations which require a buffer distance of 500 to 1000m, with 750m recommended as the starting point according to a guiding statement in the Environmental Protection Act.
Norm Anderson's house sits close to the boundary of his property and is within a few hundred metres of the new stressing beds.
Permacast is currently engaged in state contracts for the Whiteman Park viaduct, the Morley Ellenbrook Rail Extension, and the Bayswater Viaduct. The company has just completed precasting concrete piers for the Fitzroy River bridge and work was due to start on the Byford Rail Extension project in the next few weeks.
It is uncertain whether any of these projects would be affected should council vote to advise MODAP to refuse Permacast's Development Applications at Monday's council meeting.
The Examiner reached out to Permacast's Managing Director Alberto Ferraro to comment on how these projects and his business could be affected, but he declined to comment ahead of the upcoming council decision.