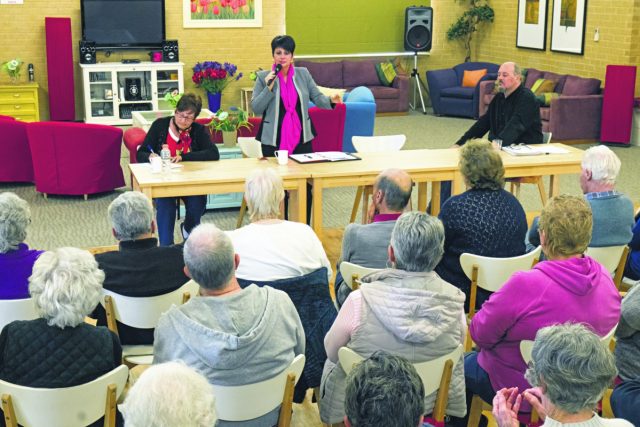 Consistent rent increases and ongoing fears their rent on their empty homes will be passed on to their loved ones, should they pass away, has prompted residents at a local over 45's village to contact a local MP for advice.
Residents at Serpentine Falls Park Home and Tourist Village have been campaigning for months to meet with members of the park management team to discuss the rent increase of $10 per week per site and the lack of communal facilities at the village.
The group has circulated petitions and posters to the wider community to let them know what was happening at the park and had asked state government members to meet with them and hear their concerns.
Member for Darling Range and shadow minister for community services and seniors and ageing Alyssa Hayden accepted the invitation and visited the park on Monday morning, a visit that was met with applause from the residents.
She said she couldn't promise anything but she would try to talk to the owners and mediate a solution that everyone was happy with.
At the meeting Mrs Hayden heard the residents apprehensions, which included concerns surrounding the Deceased Persons' Estate Act.
Resident Greg Traupmann said many residents had grave concerns about the Act with some facing serious health issues relating to the stress.
"As we get older some of us may pass away and the house here at the park will be empty until it is sold," he said.
"These families have their own houses and have their own bills that they need to pay and this would add a considerable amount of stress to them.
"Management doesn't care if the house is sold or not because they continue to get the rent.
"All we are saying is maybe that should last for a period of six months and then after that they don't get any more rent because some houses in this park have been up for sale for more than two years."
Mrs Hayden told the residents she would be happy to go through the legislation for the Deceased Persons' Estate Act and draft up some amendments to it.
She also agreed to try and meet with the owners in regards to the other issues.
"Let me go and have the conversations with them," she said.
"If I can start by opening up the dialogue and start asking the questions then maybe we can get some answers."