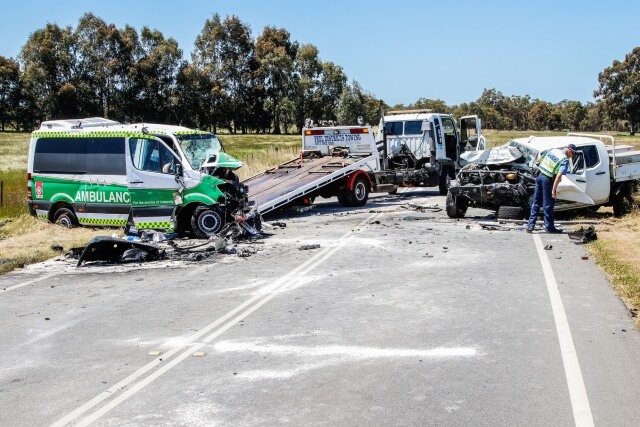 The community has rallied together and set up a fundraising page for the two Serpentine based paramedics who were involved in a crash on Mundijong Road, Oldbury just before 5am yesterday morning.
St John Ambulance paramedic Wesley Ackerman received life threatening injuries and is fighting for his life after a white Nissan Navara collided head on with the ambulance he was travelling in.
Mr Ackerman and his partner Sharron Price who was driving the vehicle were responding to a call when the Navara allegedly was travelling on the wrong side of the road.
Mr Ackerman had to be freed after he was trapped in the ambulance, which rolled onto its roof following the crash.
Ms Price suffered minor injuries and has been released from hospital.
Police put road blocks in place for several hours to allow Major Crash Investigators to assess the scene.
Friends and family have taken to social media with words of well wishes, prayers and support.
Mr Ackerman's brother, Glen Ackerman, said his family and friends have created a circle of prayer.
"Our prayers and thoughts are with Odile and the kids down under," he said.
Others wrote, "be the fighter I know you to be Wesley, prayers to you and the family."
"Our thoughts and prayers are with you guys, come on Wesley you can pull through."
To support both paramedics and their families, you can donate at https://www.mycause.com.au/page/138842/sja-serpentine-crew
Further drama
While Mundijong Road was closed a Port Kennedy woman drove her Black Saab drove through the crash site at speed at 8.20am disturbing crash debris and forcing police officers off the road.
Despite being told to stop by police the woman continued driving east on Mundijong Road.
Later that day at 4.15pm police stopped the woman's car on Cantonment Street in Fremantle.
It will be alleged during a search of the car a quantity of prohibited drugs was located.
The vehicle was impounded for 28 days and the Port Kennedy woman was charged with reckless driving, unauthorised entry into a police forensic area, unauthorised disturbance of items in a police forensic area, failing to obey an order by a police office and possession of prohibited drugs.
She is due to appear at Fremantle Magistrates Court on November 7.