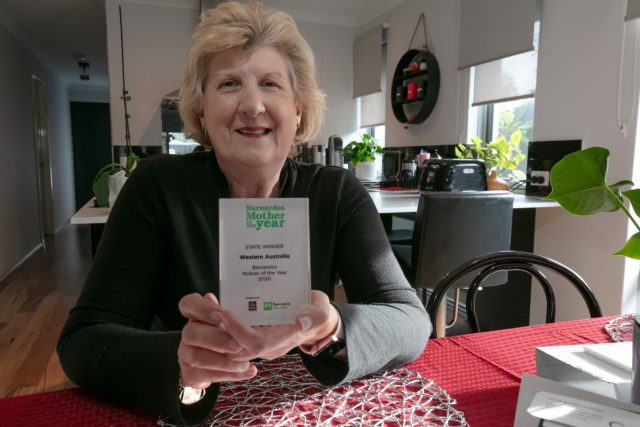 A local 65-year-old widow, mother of three and foster carer to her 11-year-old granddaughter has been named Western Australia's Mother of the Year.
Always putting others before herself, Annette Stagg's story is nothing short of "incredible" according to her daughter Alyce Woodrow, who nominated her at the Barnardos Australia Mother of the Year 2020.
Some may wonder what it takes to become Mother of the Year, but Mrs Stagg is one of a kind.
The Ashburton Primary School teacher assistant, has been a champion for children who are scared, vulnerable and without a voice, despite having to overcome a number of difficulties throughout the years.
Mrs Stagg fosters for her granddaughter Aurora, who came into her care 10 years ago while she was nursing her terminally ill husband as well as her mother, both of whom have since passed away.
Over the years, Mrs Stagg dealt with her oldest son's severe drug addiction and later faced her own health battle with cancer. She is now in remission.
Ms Woodrow said her mother continues to fight for children's rights and does an incredible job at caring for Aurora.
"She has worked on countless cases with the Department of Education, Department of Child Protection and the Police to ensure young children who show signs of abuse and neglect are looked after," she said.
"Everyone who meets mum and knows her story says that she should be recognised for an award like this, so now it is my turn to share her story and shine the spotlight on her for all the work she does."
Mrs Stagg said her daughter's nomination came in as a surprise, one that she will remember for a long time.
"I was very honoured, and very humbled, it was lovely to hear that she had nominated me for something like that," she said.
"I've been teaching at the local school for more than 25 years and I love children, as a mother you would like to be able to help children, educate them and make sure they have everything they need – it has been a very rewarding job."
But Mrs Stagg said it's been a rough nine years.
"I have dealt with my husband and mother's death, dealt with my son's addiction since he was 15-years-old, faced cancer and have continued working full time as an education assistant.
"When my granddaughter was born, I told my son he needed to get himself fit, and told him I would never let her go into the hands of a stranger, and I didn't.
"When the time came, he was declared not fit, and I was the one who took over.
"Although I've been clear for five years now, I also have Leukemia and I was stage four when I was diagnosed.
"And well losing my life long partner was also huge for me, it was really, really tough and it still is.
"So that's probably some of the things why my daughter nominated me, she has told her friends I should write a book about my story."
Although Mrs Stagg never used to talk much about her life struggles in the past, she said 2020 hasn't been the worst year and that it has only made her stronger.
"Mental health is so important, don't ever be afraid to ask for help," she said.
"I don't think enough people ask for help, a lot of parents struggle too and I see it in my school.
"I don't think there are enough support groups out there and I would like to write my story one day, help people and perhaps form some other form of support group.
"Always remember how important it is to live day by day and tell your children how much you love them whenever you can."