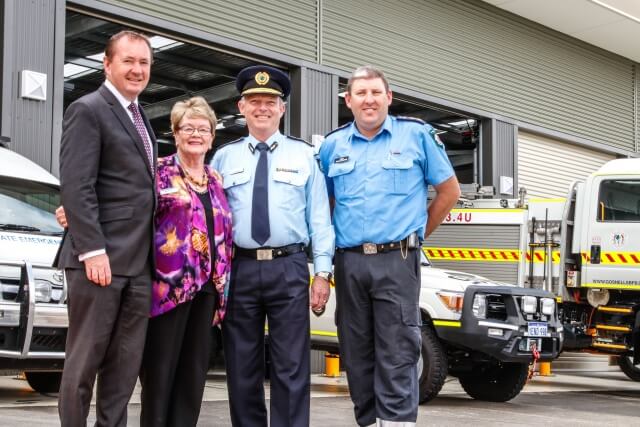 Fire and emergency operations in the City of Gosnells received a boost in the lead up to the summer fire season with the opening of the city's new emergency operations centre in Beckenham on October 26.
The $4.2 million Horley Road facility was officially opened by the City of Gosnells mayor Olwen Searle and Emergency Services Minister Joe Francis.
It will house the Gosnells bush fire brigade and the Gosnells State Emergency Services including about 90 volunteers.
Ms Searle said the high-tech facility would greatly enhance the response to bushfires and ongoing management of local emergency and rescue operations.
"The city's fire and SES crews attend more than 150 incidents each year including bush and structural fires, flooding, storm damage, cliff rescues and land searches in our region and beyond," she said.
"Our new emergency operations centre will not only provide them with a much improved base but greater capabilities in terms of emergency coordination, communication and ultimately response times.
"Being located just off the Kenwick Link also gives crews easier access to Roe Highway."
Ms Searle thanked the state government for its $1.375 million capital grant to part fund the building and said she was pleased the city had been able to fund the reminder of the project.
"It was designed in close consultation with volunteers who will use this wonderful facility," she said.
"This centre also has the capability to function as a level three incident control centre for use the city and other emergency services should the need arise.
"It is also likely to become a hub for regional deployments for emergency services."
The emergency operations centre features a five drive-through bays for the bush fire brigade and five for the SES units, separate offices and storage area and common use area including a training room, outdoor area, kitchen and bathroom facilities.
It also has an operations and communications rooms, a vehicle wash down area and specialised training facilities to enable fire and rescue drills as well as outdoor lighting for night training.