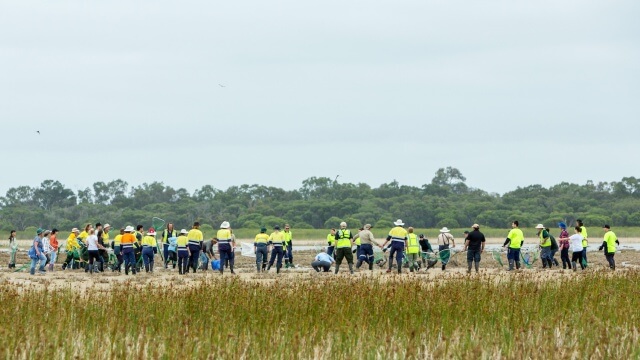 A group of 58 volunteers from a range of organisations saved 14 black swan cygnets at Forrestdale Lake from certain death just before Christmas.
Black swans lay their eggs near the lake in winter and raise the cygnets there for several months.
In the past decade the lake has started drying up during early summer and the cygnets that are not yet able to fly are vulnerable to fox attack and starvation.
Darling Range Wildlife Shelter volunteer coordinator Sue Manuel has been involved in the rescue for the past five years and said they had it down to a fine art.
"Come Christmas time half of these poor things are only half grown and the lake's running out of water and the parents fly off and leave them.
"The foxes start coming and getting them one by one so what we do is we come and relocate them into a safer place so they can fly when they're ready to fly so they wont be fox fodder.
"We make a big circle around the lake and we close the circle in on them and we've all got a net each.
"We all go in and grab them and give them a quick check over and then take them to another lake so they can live their little lives there.
"We're out there at 6am getting into it."
She said watching all the volunteers work was special.
"If we've got a chance to save an animal we'll do it, we're all carers," he said.
"We are wildlife carers and we'll do anything to try and help them out, it was great to see everyone working together to help catch these guys."
The volunteers were from a range of organisations including the Department of Parks and Wildlife, Green Army, Darling Range Wildlife Shelter, WA Seabird Rescue and Friends of Forrestdale.
Friends of Forrestdale president Dave James said the lake used to be able to support most of the cygnets until they were ready to fly.
"It's a changing environment these days unfortunately," he said.
"Years ago the lake used to hold the water until March or April or even longer. "The cygnets used to have a chance to grow up, they take about three months until they're able to fly.
"Now days they're about a month or six weeks short."
He said this year the lake had more than 70 cygnets by the peak of the season.
"By the time it had come down to rescue day about half of them had already flown off and then another 20 or so were just too small.
"They were the ones we rounded up.
"A few of them flew away while we were trying to catch them."