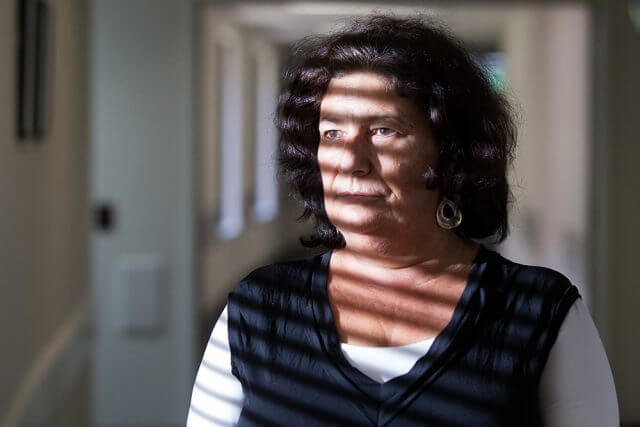 The WA ombudsman released the findings of his 18-month investigation into domestic violence in WA last week, which included a staggering 75,983 incidences attended by police and 30 deaths. With the nation pausing for white ribbon day on November 25 editor Robyn Molloy spoke with the principal social worker for the Armadale health service Ivy Vukovich about the issue.
Campaigns such as white ribbon day and domestic violence advocate Rosie Batty have broken some of the barriers to talking about domestic violence but the sensitivities and complexities for victims mean it is something that still goes on behind closed doors.
Principal social worker for the Armadale health service Ivy Vukovich said there was still a fear of what would happen if people disclosed information about their situation.
"It is a very difficult area to work in, it is a kind of sensitive subject and there are all sorts of consequences if they acknowledge it," she said.
"I have been here more than five years and domestic violence has become our core focus and we have increased our resources.
"Research in WA has shown this area, Armadale, has one of the most reported family and domestic violence incidences and we have found that because it is a health concern we are one of the front line services to be involved."
Two people per week were referred to social workers from the Armadale Kelmscott memorial hospital emergency department in 2014 but many victims did not want to press charges.
The social workers work closely with police, the Department for Child Protection and other agencies to help victims.
"One of the biggest problems is that women will present, and men I might add, to the emergency department with physical injures and they are referred to the social worker but they don't want to make any charges," she said.
"Sometimes they are brought in by police but sometimes we can suggest we can bring in police if they want to make charges but some are concerned about the outcome if they are to do that."
Clients often had repeat referrals.
"I'm not sure of the number but there are people who come in frequently," she said.
"I mean people will come in and get patched up and sometimes they will go out again and the perpetrator is in the car park waiting for them."
Ms Vukovich said the social worker's role was to educate, support and help with safety plans.
"Things like discussing with them 'if you think he is coming home drunk or something and you are worried, is there any way you can get out of here quickly? Where would you go? Who would be able to assist you?'," she said.
"They can advise other people but obviously it needs to be kept as confidential as they can.
"There are also a lot of phone apps at the moment that assist people to get support and there are a lot of apps that can hide things from someone.
"So if you have got a mobile phone and someone is monitoring it they won't be able to find all these apps."
Ms Vukovich said they also discussed the impact on children in the household.
"It is a form of abuse to be witnessing domestic violence," she said.
"Part of our role as social workers is to educate the parents about the impact on their children because I don't think sometimes they realise the outcomes that do happen.
"Some children get quite fearful, hiding and being scared.
"Quite often there are risk indicators like they are not going to school, they may get constipated, just general indicators that they are really experiencing some form of emotional issue."
Ms Vukovich said the reasons for domestic violence were complicated.
"The complexities are also the types of relationship they have and also other factors like their social situation, are they isolated, do they have a job, do they have access to a car, they have no money so quite often that can make it very difficult," she said.
"For people who come from overseas that may not speak English and don't know where to go to get support.
Ms Vukovich said campaigns such as white ribbon day and advocates like Rosie Batty had made it easier for people to talk about domestic violence but there was a long way to go.
Member for Armadale Tony Buti, who was deputy chair of a community development and justice standing committee report into how WA police evaluate the effectiveness of its response to family and domestic violence released in October, said changing attitudes that supported violence were important but not enough on their own and resources need better funding.
"Without increased funding for additional resources we are unlikely to see a significant reduction in family violence," he said.