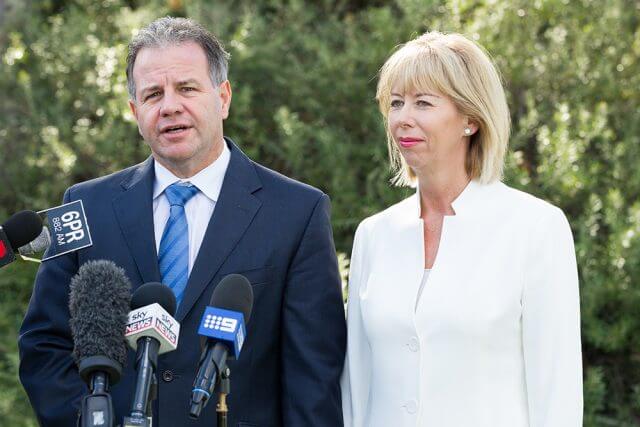 Incumbent Federal Member for Tangney Dennis Jensen will run for the seat as an independent at the July 2 election following his dumping from Liberal Party preselection earlier this year.
In April Liberal Party preselectors picked former state Liberal Party director Ben Morton as the Liberal candidate instead of Dr Jensen, who has held the seat with more than a 10 per cent margin since 2004.
In 2013 he won the seat with a 13 per cent margin making it one of the safest Liberal seats in Australia.
On Monday Dr Jensen announced his intention to run for the seat as an independent with 'traditional Liberal values' while criticising the party.
"If I'm elected they will be assured that they had a member that had strong Liberal values whilst not allowing the party machine to dictate to me," he said.
"My preferences and voting in the house will be guided by independent Liberal values.
"I am making a stand against the faceless men and women in the Liberal party who pervert the process and Liberal ideals."
Dr Jensen was also highly critical of branch stacking and the 'character assassination' of him that saw details of his love life and an excerpt of a novel he wrote before being elected published in a national newspaper.
"In my view branch stackers should be jailed and the (Australian Electoral Commission) should be part of the preselection process," he said.
"We've seen that the Liberal Party have already run a disgraceful campaign where they've gone about character assassination and this continues, it is not the way that I behave I will not be running a disgraceful character assassination campaign but be prepared the Liberal Party will."
Dr Jensen said he would push for a royal commission into banks, reverse retrospective superannuation policy and push for the scrapping of an emissions trading scheme.
He said the support from constituents moved him to run.
"I have been very humbled by the response that I have had, both in terms of people that I have actually asked what their opinion is and indeed people that, unsolicited, have said to me that they believe that I should run as an independent," he said.
Curtin University lecturer Thor Kerr will run as the Greens candidate while John Wieske will be the Australian Christian Party candidate.
The Labor Party chose Southern River College teacher Marion Boswell as its candidate at a state executive meeting on Monday night.
The neighbouring Swan electorate is a seat to watch with incumbent Liberal Steve Irons and former state Greens candidate turned Labor candidate Tammy Solonec going head to head.
Women's rights and social justice campaigner Sarah Nielson-Harvey will vie for the seat as the Greens candidate.
Mr Irons currently holds the seat with a seven per cent margin.
The July 2 election will be the first double dissolution election in 29 years following the return of Bob Hawke's Labor party in 1987.
On Sunday Prime Minister Malcolm Turnbull asked the Governor General Peter Cosgrove to dissolve both houses of parliament following a second rejection of two of the government's bills in the senate.
It kick starts one of the longest election campaigns in Australian history and is the third time voters will hit the polls in four years following the WA senate re-election in 2014.