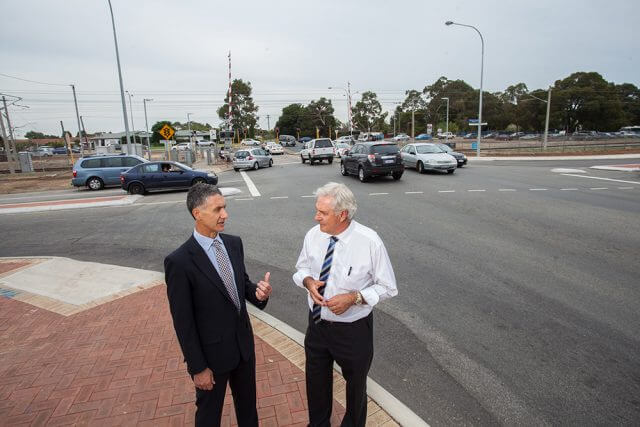 The state government was aware of the traffic issues at Denny Avenue but there were higher priority level crossings to address according to Transport Minister Dean Nalder.
A grade separation at Davis Road – separating the road from rail with an underpass – had been earmarked as the best solution for the Kelmscott CBD since 2001 but had failed to eventuate.
While visiting the region on Monday Mr Nalder said grade separations at level crossings on Nicholson Road in Canning Vale and Welshpool Road in Welshpool were more pressing issues.
"We've recently done an underpass at Lloyd Street in Midland," he said.
"That project's costing $78 million and the numbers I'm hearing for Denny Avenue are something around the same.
"We're currently doing some work on an overpass for the freight train at Nicholson Road.
"For us it's about the prioritisation, we understand it's there, we understand it's a high priority for the Armadale shire as well, they've raised it today but if we look down the Armadale line we've got the Welshpool Road as well, that one for us is actually a little bit higher."
Main roads intersection crash statistics from 2009 to 2013 show the Denny Avenue level crossing had 108 crashes with 24 casualties – higher than the Welshpool Road level crossing which had 98 crashes with 17 casualties.
Member for Armadale Tony Buti and Federal Member for Canning Don Randall invited Mr Nalder to view the level crossing with them while cabinet visited the region on Monday.
They were both disappointed the invitation was rejected.
Mr Buti said he thought the Transport Minister could have found at least 10 to 20 minutes to come and see the intersection.
"It's not an ideological issue, it's a public community service," he said.
Mr Randall said he felt 'unloved' on the issue.
"I'm very serious about trying to keep the pressure on, if we have to harass them or fall in love with them to get this on the radar then that's what we're trying to do," he said.
Mr Randall said all the state government needed to do was commit some money so it could attract funding federally and elsewhere.
"I would imagine with all these things once you get the first investor, which should be the state government there may well be federal money," he said. Planning Minister John Day said he visited the intersection on Monday and recognised the issues there but it was financially difficult.
"I agree there is a real need there given the growth in commercial developments and we are seeking to find a solution but it's not easy given the financial constraints we face," he said.
A spokeswoman did not answer whether Mr Nalder would visit Denny Avenue in the future.