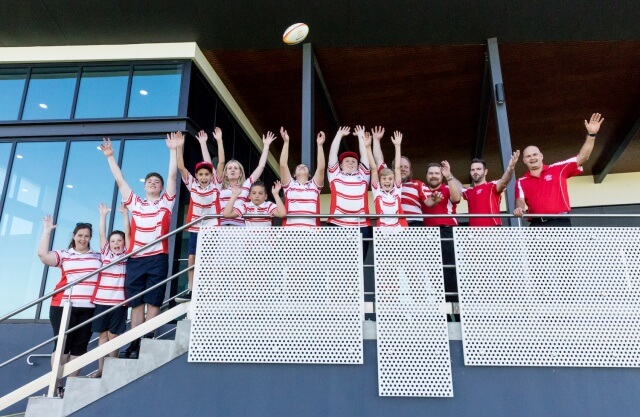 After 18 years of sharing facilities with the Kelmscott Senior Football Club the Arks Rugby Union Football Club finally have a home they can call their own at the new Harrisdale pavilion and playing fields.
The club, which was formed in 1975, moved to John Dunn Oval in Kelmscott from Kuhl Park in 1999.
Since then the two clubs have struggled to operate from the same facilities and the playing field has suffered with both football and rugby matches being played in it, often on the same weekend.
Last week the City of Armadale announced the Arks were successful in their bid to move to Harrisdale.
Arks president Rod Ward said it was an exciting phase for the club and it would put it back in premiership grade contention.
"Arks Rugby Union Football Club was born in the City of Armadale in 1975 and in our 43rd year we have been given the opportunity to progress forward on the path to growing and building our club for the future, a journey that can lead us back to premiership rugby," he said.
"Local community engagement will be a key focus to ensure that our club delivers the Harrisdale and broader City of Armadale community with opportunities to be involved in rugby union, sport activity, development and local family events hosted by Arks."
As well as rugby, tee ball and touch rugby will operate from the facility in the summer.
Armadale mayor Henry Zelones said following community engagement rugby and tee-ball were identified as sports of interest for the Harrisdale community.
"The registration of interest application from Harrisdale Arks Rugby Union Club supported community aspirations and the city is delighted that the Arks will call the Harrisdale pavilion and playing field their home," he said.
"We're also excited to announce that the Harrisdale Tee-ball Club and Harrisdale Arks Touch Rugby will be summer sports at the facility.
"It is a fantastic opportunity for the clubs to make best use of the brand new amenities and we look forward to a successful year ahead."
The Arks' first home match at Harrisdale will be on April 1.
Mr Ward invited the community to come down and be a part of the Arks' new chapter.
Teams cater for players aged three to 65.
For more information about joining the seniors team email rod-ward@live.com.au or for juniors email arksjnrrugby@hotmail.com.