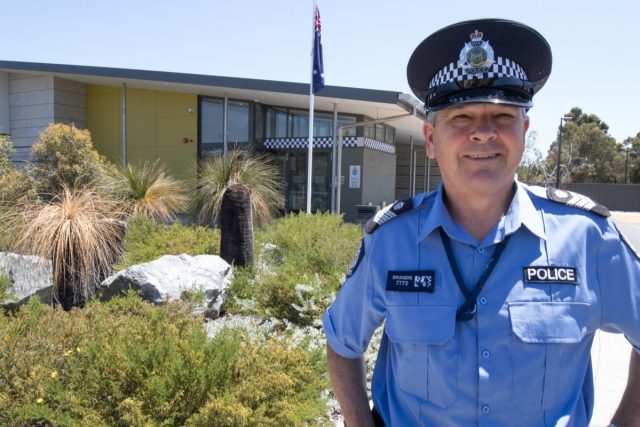 A local senior sergeant was awarded with two police accolades last week in recognition of his involvement in response to a capsized asylum seeker vessel six years ago and his efforts in the search and recovery of 65-year-old man Ian Collett. 
Mundijong Police Snr Sgt Darryl Brandis, more commonly referred to as "Brando", received the Australian Federal Police Operations Medal from Commander Stuart Bartels on December 4 and just two days later he was awarded the WA Police Excellence Award at a breakfast ceremony at Crown Perth. 
Snr Sgt Brandis said he was very humbled to be recognised with both awards, which in time will be inherited by his family. 
"In June 2012 I was a part of Operation CROWEA an Australian Federal Police operation undertaken in conjunction with WA police as a result of a boat capsizing at Christmas Island resulting, sadly, in the deaths of over 100 asylum seekers," he said. 
"While I was stationed at the Coronial Investigation Unit years before I had been trained in disaster victim identification and in particular I had been skilled in the anti-mortem phase, which involved speaking with people who knew the person who had passed away."
Snr Sgt Brandis said the passage of time had not taken away from the tragic incident. 
"The recognition helps me to reflect back on the extraordinary work done by the Australian Federal Police and the police officers that attended to assist the next of kin of those that had passed away," he said.
"Lest we forget those poor 100 plus souls who lost their lives in a desperate attempt to come to Australia." 
Likewise, the Police Excellence Awards individual win was something Snr Sgt Brandis was overwhelmed to receive. 
"When I completed my final report of the Ian Collett case, I added up over 500 police officers had been involved, over 600 SES volunteers and Department of Fire and Emergency Services personnel, over 30 police staff, about 150 public volunteers including many search dogs and that over 200 people had called Crime Stoppers with information," he said. 
"I was very humbled and was hoping for a three-way tie with Senior Constable Ben Ferris and First Class Constable Nathan Smith, the other two finalists." 
Snr Sgt Brandis said the four-week search for Ian Collett, who left his Canning Vale home on May 19 and never returned, was the most complex search he had ever been involved in.