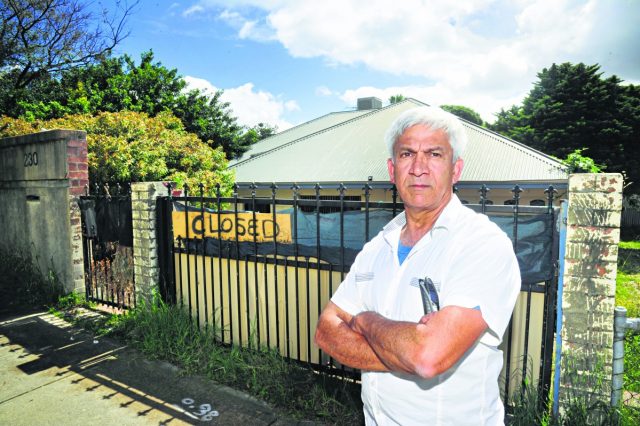 For 20 years this Kensington property has been responsible for a large chunk of Cannington's meth supply.
Police, business owners and residents will attest to the chaos that has been caused by its presence since 1999.
The constant violence, noise and threats have forced the small, tight-knight community to impose their own curfews on weekends, as no one was brave enough to walk the streets.
Local business owner Phil Martinez lives close to his hairdressing salon and said the once idyllic neighbourhood had been destroyed.
"Especially in the last three to five years, it has been just impossible to live," he said.
"We have a lot of people here, a lot of people from different countries, but many of them have been too scared to leave in case they get attacked."
Mr Martinez said the business owners in the area all know what has been happening but have been powerless to stop it.
"I work here on weekends sometimes, you won't believe the amount of cars that are coming in and out of here, parking up and exchanging either money or drugs," he said.
Police have been aware of the drug house since it became a hotspot, but had largely been powerless to fully shut it down until now.
Kensington Police Detective Sergeant Jason Walker said a 50-year-old man – who was recently arrested – had been on their books for a while.
Det Sgt Walker said the arrest had been the culmination of months of research and surveillance and he was confi dent a significant source of methamphetamine had been removed from the streets.
"These things aren't easy, they require a great deal of research, planning and patience," he said.
"This address has been a cause of community concern and a focus point for local police, but in the last two months, since we removed the local dealer, the community have noticed and commented on the signifi cant change to the area."
Local business owner Phil Martinez said the arrest had made a definite change in the area, but was wary of calling it a solution.
"Definitely, there's a park here and families have been able to use it much more, there's less worry about fights or finding syringes or that type of thing," he said.
"But we know it's not just going to fix everything.
"It seems like it has basically moved it to another place and we understand that. We keep communicating with the police, because we know it's a battle for them."
Det Sgt Walker said police were building in confidence, especially in communication with the community and would continue to target hotspots with people's help.
"We would like to remind meth dealers they need to get lucky every day," he said.
"We only need to get lucky once and it's only a matter of time before their luck runs out."