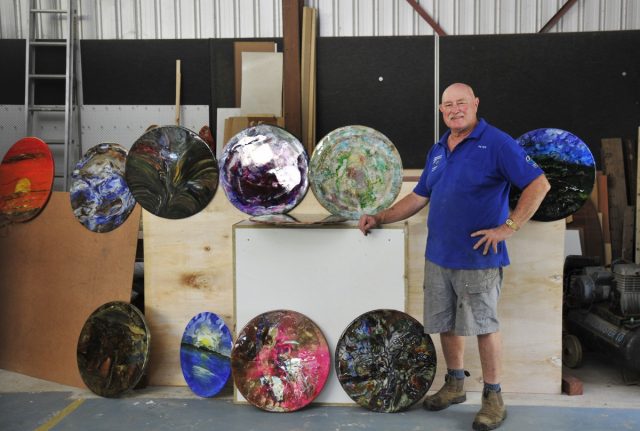 The local men's shed is not only just a place to tinker with wood and make new friends, it was also a wonderful haven to hone new skills.
Serpentine Jarrahdale Men's Shed president Peter Cuttriss is living proof of this as he has recently picked up his brushes in a new artistic venture – Lazy Susans.
Mr Cuttriss told The Examiner he first discovered his love for painting when he retired and was travelling in their caravan.
"I needed some other interests as you can't fish all the time," he said.
"I had always loved to sketch and did a few designs for work so I got some canvas, paints and brushes and I was hooked."
For the last few months Mr Cuttriss has been working on designs for the shed's handmade Lazy Susan's, which are made from recycled wood or MDF.
"They are fitted with a bearing and painted and then coated with a very hard clear resin," he said.
"Some take 10 or 12 hours to complete and involve many others in the men's shed."
The beautiful mix of colours and designs were inspired by Mr Cuttriss' time in the Pilbara, his love of the sea and a spot of fishing.
Mr Cuttriss said the Mundijong-based shed had a great mix of talent with men of all ages popping in on Tuesdays and Thursdays to create fantastic masterpieces.
"The men's shed isn't just for old retired blokes," he said.
"We have younger members too so if anyone, even fly in-fly-out men are looking for something to do or need to build that shelf the wife has been on your back about come in and give it a go."
For more information call Mr Cuttriss on 0403 037 465.