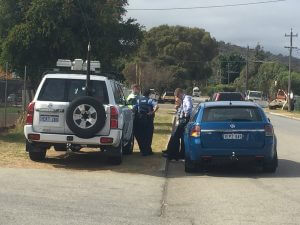 A man believed to be in his 30s has died after coming off his motorbike and landing in a drain near Byron Road in the Armadale industrial area this morning.
Detective First Class Constable Cameron Outred said the man was found by a passer-by between 6am and 6.30am, though it was unclear when the crash occurred.
"He's failed to negotiate a bend and the motorcycle has mounted a kerb and landed in the drain," he said.
"Unfortunately the rider was thrown from the motorcycle and killed.
"He was thrown a fair distance, it's approximately four metres."
Const Outred could not confirm whether the man died as a result of the crash or drowned.
He said the crash was particularly disappointing given police had only launched their Easter traffic campaign at midnight.
He said speed would be investigated as a factor but it was still too early to say.
The man has not yet been identified.
A St John Ambulance spokesman said they were called to the scene at 6.43am but did not transport the man to hospital.
The death is a bad start to the Easter long weekend following a horrendous Labour Day long weekend two weeks ago where 11 people died on WA roads.
Police will conduct a traffic blitz this weekend with the use of radar equipped motorcycles and covert cameras placed in hoon hotspots in an effort to keep the road toll down.
Anyone who witnessed the crash or saw the motorcycle should call Crime Stoppers on 1800 333 000.
– Amy Blom