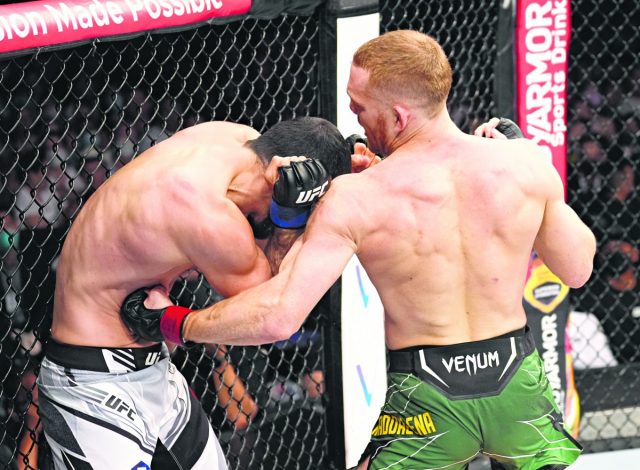 Willetton-trained MMA fighter Jack Della Maddalena has passed the Dagestani wrestler test with flying colours, taking home a $50,000 performance of the night bonus at UFC 275 in Singapore on Sunday.
The fight against Ramazan Emeev was billed as a massive test for Maddalena, the true test of his wrestling chops.
Opening the Pay-Per-View card, for a moment it seemed as though Emeev might be too much for the Australian, but Maddalena, in an attempt to get up after Emeev scored a takedown, got stuck in an Anaconda choke.
Maddalena stayed patient and made good his escape, before walking his opponent down and dropping him with a brutal left hook to the liver, getting the finish – and becoming the first man to finish Emeev in the UFC – at 2.32 in the first round.
Speaking after the fight, which earned him a $50,000 bonus from UFC boss Dana White as one of the perfomances of the night, Maddalena said his gameplan was to stick and move.
"The gameplan was to stick and move, obviously the gameplan wasn't to get taken down and get caught in a choke but we were prepared for that, we were prepared for him to dive into a single-leg, we were prepared for strong grappling and we were prepared to be put in a choke," he said.
"I've been there before and I just stay cool, calm and collected, I waited for my opportunity, I got out of there and went back to work sticking and moving.
"It was tight, I don't think he had the right angle on it but it was definitely tight, if I'd made the wrong move I could have been put to sleep but all the right moves were made."
On the back of his second-straight first round finish in the UFC, Maddalena said he plans to two more times in 2022, and seemed keen at the chance to fight on the UFC Paris card, which is already confirmed to feature Australian UFC superstars Tai Tuivasa and Robert Whittaker.
"It's June, my goal has been to get four fights this year and I think that's still in the realm of possibility. So yeah, four fights, no particular date, whenever.
"Just someone, anyone, I'm down for the challenge, anyone that poses a threat, I'm ready to go.
"The Paris card in September, I'm in, that would be awesome.
"Let's go Paris."