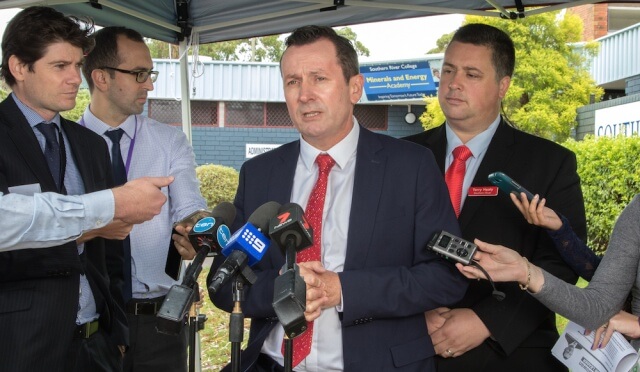 Labor candidate for Southern River Terry Healy joined Labor leader Mark McGowan at Southern River College on Tuesday morning for an announcement on investments.
Mr McGowan said that if elected in the March state election the Labor Party would invest $381 million in new school infrastructure and $8.4 million to upgrade Southern River College.
He also said he was a father with young children and knew how important it was to have a quality school system.
"Our announcement will boost the local economy creating 1350 new jobs by building new schools and upgrading existing schools," he said.
"Our children can get the best education they deserve in well maintained and modern facilities."
Southern River College P&C vice president Karen Adams said the upgrades to the school would be fantastic.
"The science labs have been the same since 1992," she said.
"They've been the same since I've been there.
"Southern River is growing and it's about time we upgraded the facilities here."
Southern River College chairwoman Pat Morris said the upgrades to the college were long overdue and a new investment would be fantastic.
Mr Healy said the upgrades would revolutionise schools and it would be a fresh approach to the education system in WA.
"Being a teacher myself this is personal for me," he said.
"I have been hurt by the budget cuts because my students have been hurt by it and the new upgrades are what is needed for schools."
Member for Southern River Peter Abetz said a re-elected Liberal government would spend $1 billion over four years to refurbish old schools such as Southern River College.
"I ran a campaign last year to generate funding for the science labs in Southern River," he said.
"Labor's claim that the Liberal government has not delivered educationally for Southern River is simply untrue.
"Canning Vale College had major new additions, Bletchley Park and Caladenia Primary have been improved and the newly opened Harrisdale Secondary College has benefited families in Southern River.
"I have successfully advocated for a new primary school in Southern River and the Minister for Education announced that Southern River would get a new $17.3 million primary school in Marnbu Road, which will see students learn in state-of-the-art facilities which will open its doors to 540 students from 2019."
Minister for Education Peter Collier said a lot of the announcements were coming from unallocated funding.
"A lot of the announcements today from Labor are based on the same premise that is unallocated funds," he said.
"Anyone in their right mind would know that is simply not available.
"If you are going to take the money off other areas of the education budget or other areas of the budget in the general sense, that needs to be transparent.
"This is quite frankly deceitful on the part of the Labor Party to make these promises.
"These promises have absolutely no foundation whatsoever when they have not got the funds."
For more state election stories and candidate profiles click here.