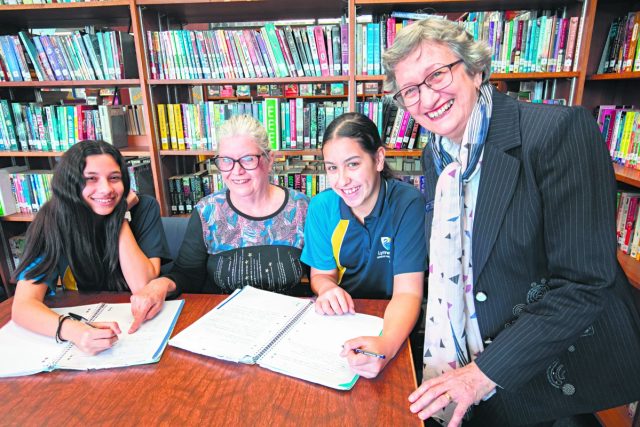 A long-standing staff member of Lynwood Senior High School has won a major award, announced as School Coordinator Volunteer of the Year by EdConnect Australia.
Joyce Michael has been volunteering in the role for close to 20 years, training and supporting volunteers to work in local schools, providing a safety net for young people who might otherwise struggle to realise their potential – in school and life.
EdConnect Australia supports more than 1500 volunteers who last year provided about 2506 hours of support each week to around 17,500 students across WA, NSW and VIC.
Each year, the Volunteer Award program recognise individuals who go above and beyond in their community to help students in our local schools thrive.
As part of Ms Michael's role, she acts as the crucial lynch-pin between EdConnect and the volunteers at the school, which she said was incredibly rewarding.
"Having the volunteers come in means the school are able to provide the extra support to the students," she said.
"Not just in the classroom, which is your general learning support, but actually giving that little bit more with that mentoring role, the one-on-one.
Joyce's EdConnect Australia Liaison Officer Julie Mullett explained a little about her character.
"Joyce has been a loyal supporter of the program for nearly 20 years," she said.
"She is warm and welcoming to all volunteers and her dedication to the program and supporting students is to be applauded.
"She provides wonderful supports to a very diverse range of volunteers, ensuring they are comfortable in their roles, as well as feeling connected to the school and staff."
EdConnect Australia aim to equip young people with the life skills they need to succeed. They do this by building positive and supportive relationships with each student.
Andrew Symington, Deputy Principal at Lynwood Senior High School deputy principal Andrew Symington said Joyce brings an upbeat nature to her role.
"Joyce is passionate about what she does," he said.
"I think when you go into education, you go in to help support the kids.
"Joyce's attribute of her passion and her intensity to help the volunteers that come under her care really shines through in her every day work."