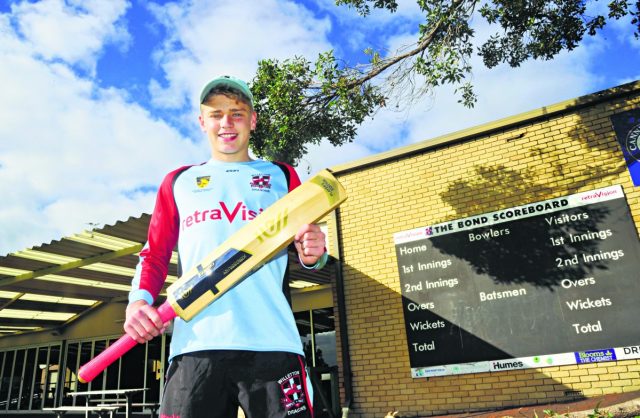 Willetton Dragons junior cricketer Josh Nathan knows that one day he will have to make a choice between football and cricket, but for the time being cricket is winning out after he was selected in the WACA WA Youth Academy Squad.
The Carey Baptist College student began his cricket journey with Willetton when he was just 10 years old as a development player in the Under 13s team in 2018.
Soon to be a student at Wesley College, Josh – also an extremely talented footballer with Bull Creek-Leeming Junior Football Club – enjoyed a tremendous 2021/2022 season, catching the eye of WA Youth Academy Squad selectors.
"I think I was selected from the previous season's results and talent carnivals," he said.
"I played at an under 15s talent carnival in December and in March I played in an Under 14s premiership so I think I must have just caught the eye of the selectors.
"Last season I went pretty well, I scored my first century, I scored a couple of 50s so I was pretty happy with my performance."
As a wicketkeeper, a top order batsman and captain of the team, Josh would like to style his game around the likes of Adam Gilchrist and Rod Marsh, but he added another name that has had an impact at State level.
"Also, the likes of Cam Bancroft at Willetton, he's a wicket-keeper batsman as well and he's worked with us boys as a team.
"It's pretty awesome being around the club, going down to watch and helping out and just watching them play, it's a nice atmosphere that's generated.
"The senior players are pretty good at engaging with the us, they're really supportive and accommodating."
His Under 15s coach Travis Kukura said he's a great kid to coach.
"He's highly motivated and he's mature beyond his years," he said.
"The youth academy is good recognition for the last season he had and it's a good opportunity to get exposed to WACA coaches as well as some of the better players around the competition.
"Where the future lies who knows, but I hear he's a very good footballer as well so the footy world is getting their hands on him and the cricket world are trying to get their hands on him as well.
Josh, however, has a unique way of dealing with that ever-present question.
"If it came to a choice between footy and cricket, that's the hardest question ever, it's always, I always answer that based on the season, if it's summer it's cricket, if it's winter it's footy, but I'll try and play both for as long as possible.
"My plan is to go forwards with sports and try and reach the top level, that's the dream, but just wherever life takes me."