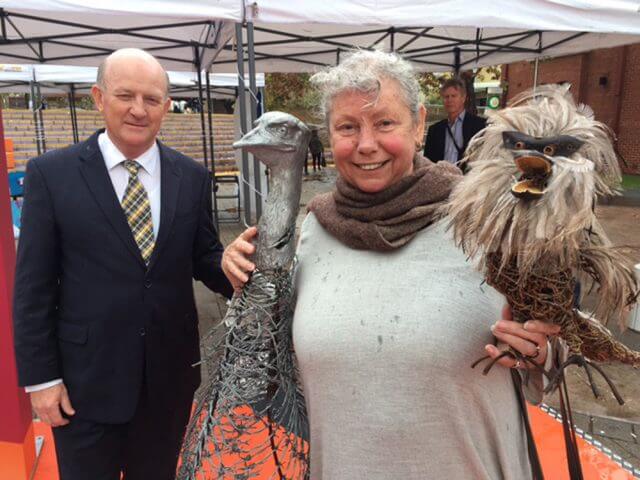 Thornlie artist Janine McAullay Bott has been named a finalist in the National Aboriginal and Torres Strait Islander Art Awards.
Ms McAullay Bott, who is one of 13 finalists from WA, said despite being an old hand at the awards it was still an enjoyable experience to enter.
"I've been a finalist quite a few times and I was a winner in 2009 of my category but I've been trying to hit the big prize for a while," she said.
"I enjoy it because it's a such a huge platform to present your work, be able to tell your story."
She said the stories she told through her woven artwork were the stories of her family and ancestors.
"Last year I entered Mozart the Musician of the Bush who is a kookaburra and that was to show the humour of the Noongar people of the bush – they have a funny sense of humour and I try to show that through the weaves," she said.
"The bilby was the winner of my category in 2009 and that represented my great grandmother.
"She was a tanner, she used to tan kangaroo skins and make beautiful blankets, which are in the WA Museum and inadvertently a couple of bilby skins ended up in the rug so that was her totem, the bilby."
She learnt to weave while living in Hawaii in the late 1980s but did not start weaving the figures and animals she had become known for until moving back to Perth to look after her mother in the late 1990s.
Her current work is made entirely from natural materials found in the bush.
Ms McAullay Bott said telling the stories of her family was particularly important to her because it allowed her to give them a voice.
"In those days they didn't have a voice and they didn't have the rights so they couldn't stand up and say anything," she said.
"When I showed the bilby I got to tell the story of my great grandmother."
Culture and the Arts Minister John Day congratulated all 13 WA finalists and said it was good to see West Australian artists feature highly in the awards.
Ms McAullay Bott's work was shown along with pieces created by finalists at a touring exhibition, which was shown in Perth last week before moving on to Brisbane, Melbourne and Sydney.
Her work can also be seen at artitja.com.au where her online exhibition Weaving Her Magic is being shown. NATSIAA winners will be announced on August 6.