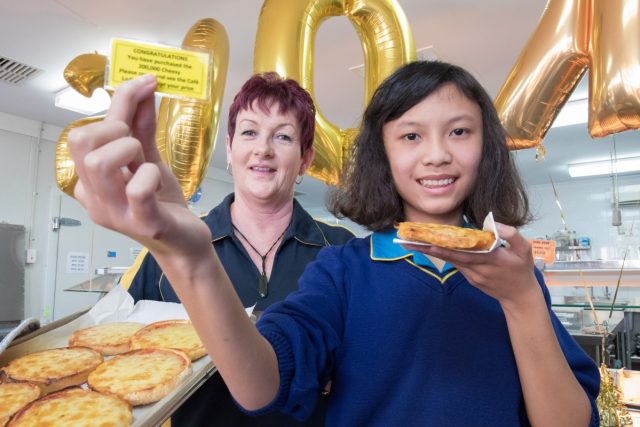 Hundreds of students from St Norbert College lined up on Tuesday morning to buy one of 240 cheese toasties, known to the students simply as 'cheesies' but like Willy Wonka and the Chocolate Factory, only one contained a winning golden ticket.
The golden moment was planned back in June when three canteen staff were chatting about how many cheesies they had made since canteen assistant Carmel Montgomery joined the college 11 years ago.
Ten years ago the first cheesy was made and 10 years after the 200,000th golden cheesy was made.
Canteen manager Cindy McIntryre and assistants Cheryl Curtis and Ms Montgomery make six varieties twice a week, including plain cheese, spaghetti, baked beans, vegetarian, ham and pineapple, and ham and cheese – all with pizza sauce.
Ms Montgomery said making these cheesies requires a lot of hard work especially with so many varieties.
"It's quite a process and it's not easy, but I was quite shocked to realise the figure," she said.
"When I moved to Perth from New Zealand 11 years ago, I'd never even heard of cheesies, let alone realise I'd be making thousands every year.''
The lucky winner was year seven student Izumi Carmelia who received cheers from hundreds of students who had gathered in the courtyard.
"It's only the second time I have ever have bought a cheesie,'' she said.
"I could see how popular they are at recess and recently my parents said I was allowed to try one."
As the golden ticket winner, Izumi received a voucher valid for cheesies for the remaining nine weeks of the school year.
Ms McIntryre said when the canteen calculated the figures they thought having a 'golden 200,000th cheesy' would be a bit of fun for the students and staff within the college community.
"We can't believe how much it has become a talking point, with people reminiscing about their school canteen days and ex-students contacting the college to say it's great we are continuing the tradition," she said.
"The figure of 200,000 is just what the three of us have made over the past 10 years.
"Cheesies have been sold at the college for many years prior to that.
"Working in a school canteen is a very busy job, with so many different foods to be made each day, but we always make time to create our six varieties of cheesies."
By the end of recess on October 23, 200,160 cheesies will have been sold.