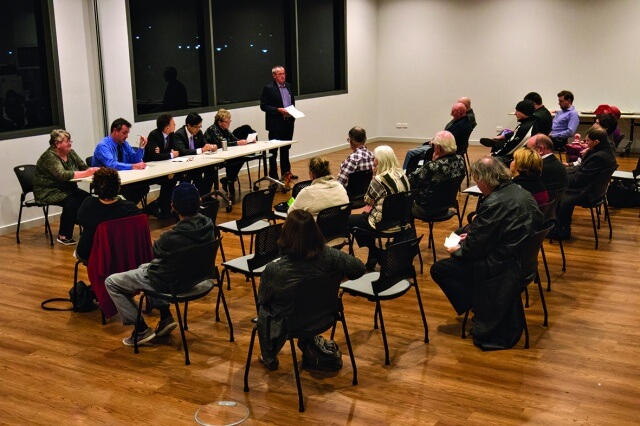 A rift in the ranks of the Gosnells Ratepayer's Association and a feeling not enough is being done in the City of Gosnells were the driving forces behind the formation of a new association Gosnells Going Forward.
Former Gosnells Ratepayer's Association member and now chairman of Gosnells Going Forward, Leon Walker publicly launched the new group on Monday.
Mr Walker says he wants his new organisation to be a member-driven organisation.
"We need to find the issues that confront members, that come from the bottom up, rather than being a top down organisation," Mr Walker said.
"The Gosnells Ratepayer's Association is very restricted in their membership and consists mainly of people from Kenwick as I understand it.
"It has had the same leaders for 10 years and I believe that is a bit stale."
Gosnells Ratepayer's Association Chair Sandy Baraiolo said while it is true she has been in the chair for 10 years, she believes there were other contributing factors, which led Mr Walker to form a second ratepayer's organisation.
"That is true, I have been the chairperson for 10 years, but saying that I get voted in as same as anyone else, it is up to the members to vote.
"At the last AGM I was asked if I want to be chairperson and I said I didn't want to be chairperson and Leon was asked and put his hand up but people did not want him to be chairperson.
"There was a vote and Leon lost and then made a complaint to the Department of Commerce saying we do not include people or engage with people and act on our own and do what we want.
"This is the reason why Leon has gone and started another ratepayer's association because he was disciplined through our association," she said.
Mr Walker said he felt the need to start Gosnells Going Forward because he believes the city's population was not being properly catered for.
"We felt there was a need for something different in the community," he said.
"There are 125,000 people who live in the city and we would like to see more of those people have a voice and the association and be more representative of the people of the City of Gosnells," he said.
Ms Baraiolo said when Mr Walker made a complaint to the Department of Commerce; there was a division in the ranks of the Gosnells Ratepayer's Association.
"We knew they were forming another association," Ms Baraiolo said.
"Their association's secretary Lynn Sheare was an executive committee member of our organisation the whole time we were going through our disciplinary process.
"The treasurer of our association resigned due to all the nastiness that happened."
"In our group there is a democratic process, it is not a case of what Sandy wants, Sandy gets.
"Leon is not actually a ratepayer, he rents a unit. He is a brilliant man but he does not want to work with others," Ms Baraiolo said.
At Monday night's public launch Mr Walker said he wants Gosnells Going Forward to be a fully transparent and accountable organisation.
"I have received notification today that our notice of incorporation was accepted by the Department of Commerce," Mr Walker said.
City ratepayers and local MPs Chris Tallentire, Terry Healy, Pierre Yang MLC and City of Gosnells Mayor Olwen Searle attended the meeting.
The next meeting of Gosnells Going Forward will be held on July 10 at the Mills Park Centre in Beckenham at 7pm.