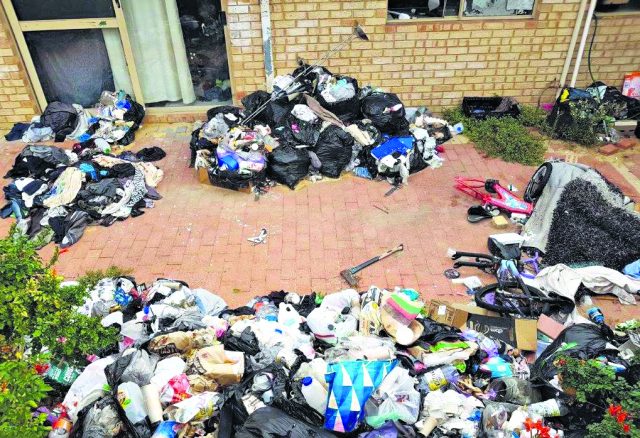 A trashed house, hooning and a 2am car firebombing have terrorised homeowners on a Seville Grove street and one resident has demanded action.
The resident who asked to not be named said the past three years had been hell for them and others living on Riverside Lane and it was causing damage to the neighbourhood.
"Last night it was hooning up the road, screaming, yelling, somebody taking off in the car," they said.
"It's been getting progressively worse.
"There's been bricks thrown, police have been out 20 times, there's been stabbings, syringes.
"Nobody comes out, they hide in their houses.
"The house directly across is a rental and every six months you get new tenants because nobody wants to stay, they never renew their lease."
Examiner Newspapers was told by the unnamed resident that the occupant of the Housing Authority property was believed to be in her 40s.
Images of the home obtained by Examiner Newspapers revealed a house with little furniture and a garden filled with rubbish bags spewing out take-away packaging, kitchen waste, toiletries, appliances and broken toys.
It was understood that a local member of Parliament, the City of Armadale and the Minister for Housing were brought into the issue but the resident said urgent action was needed.
"It's ridiculous, unhygienic and disgraceful," they said.
They said they would be willing to testify to a judge about the disruptive household but they had been told they would need to stand in open court to give evidence and they feared that would lead to retribution.
"We're stuck," they said.
"Unless we want to stand up and risk them recognising us and knowing where we live, they're saying they can't do anything about it."
The Housing Authority was contacted for comment.