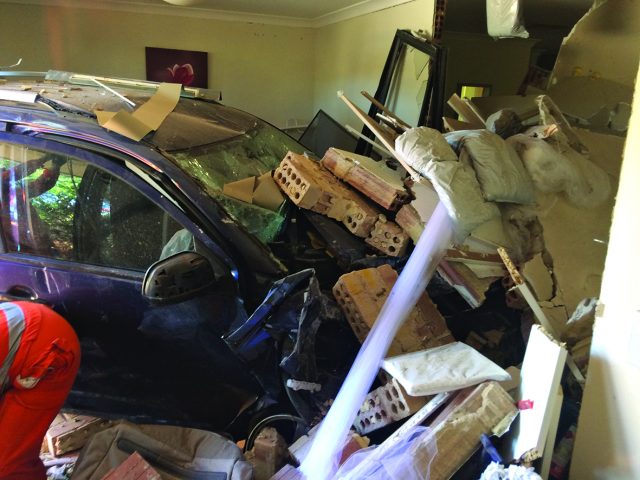 By Kate Dzienis
The Armadale SES were called out to assist the Maddington fire brigade and police officers when a car drove into a house on December 24 in Kelmscott.
Armadale SES member Ron Stroet said his unit received a call about 1.30pm on Christmas Eve to attend the crash on Third Avenue.
"We got the call from our unit manager and so it was no problem, five of us went straight to the house with the unit vehicle and trailer to meet the fire brigade who were already on site with police," he said.
"From what we know, a car with two children and a male driver had driven into the front of the house through the front bedroom wall, where the home owner had only just walked out of, and then through a second wall into a family room.
"Bricks were thrown to the end of the lounge crushing the dining table and chairs but the Christmas tree and presents were saved from the collapsed wall.
"By the time our unit arrived all citizens involved were no longer at the scene."
Mr Stroet has been a volunteer with the SES for 22 years and said unfortunately he has seen quite a few car-versus-house accidents in his time as a SES member.
"Before the car gets pulled out of the house when it's jammed in our job as the SES is to sure up the ceilings and the roof to make sure there's no further damage," he said.
"It's to make sure the fire brigade and anyone else involved get the vehicle out safely and for the occupants of the house to get what they need out of their property.
"Once the car is out the SES team clears the bricks away and secures the damaged area."
Mr Stroet said although not a great start to the Christmas holidays for those directly involved, he encouraged the home owner to go and buy a lottery ticket.
"If she had not left that room when she did, it would certainly have been a different outcome," he said.
According to police, an infringement notice was issued to the driver and there were unknown injuries but nothing of a serious nature.