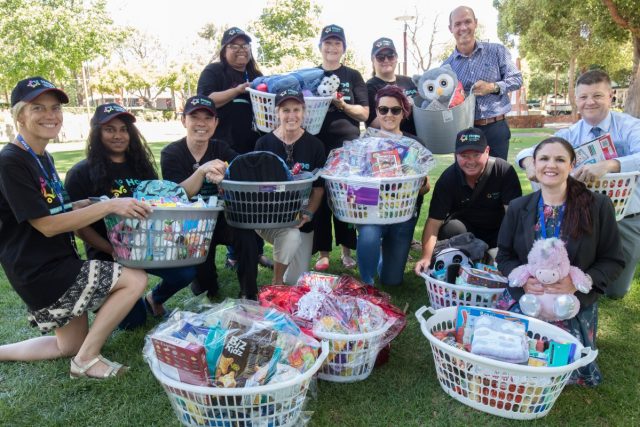 A total of 18 baskets full of food and children's toys will soon be handed over to those in need to bring some joy to bereaved families in the Armadale area this Christmas. 
Staff at Bank of Queensland Armadale put the call out for donations two months ago and started collecting everything from tea, coffee and long life milk to colouring in pencils, warm blankets and backpacks which have now all been handed over to not-for-profit organisation Hope Community Services. 
Bank manager Jayson Brown said the baskets will provide much needed support for bereaved families who have recently lost a family member. 
"Initially it was just an Armadale branch project however with the support of Renee we took it state wide and all our branches and even our support centres got involved and now we have 18 baskets to hand over," he said.
"The work that Hope Community Services does in our community is so valuable, the support that Hope provides local families both from a counselling and mental health perspective and by way of donations of day-to-day items such as these baskets help people deal with the life changing events that happen in their lives a little better."  
Hope Community Services executive regional manager Cheryl Mavor said the baskets will be distributed as the need arises. 
"There are two families already who attend our counselling services who would benefit from receiving a basket as they have both lost family members due to motor vehicle accidents," she said. 
"Also families impacted by suicide will be targeted to receive bereavement baskets.
"We are also notified by Aboriginal Elders when there has been a loss in a family through suicide or accidents and we visit the family offering support and care packages." 
If you or someone you know needs immediate assistance or support call Lifeline on 13 11 14. 
For more information about depression call Beyond Blue on 1300 22 4636, visit the website or talk to your local GP, health professional or someone you trust.