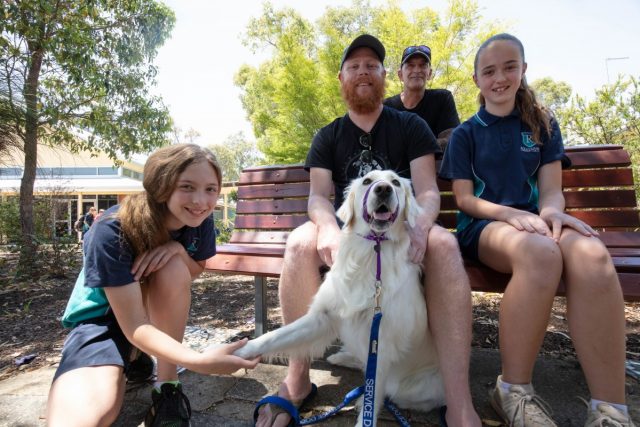 A unique visit from a furry four-legged friend this week capped off what has been an exciting and enlightening experience for students at a local school.
Year seven students at Roleystone Community College have been learning about Whiskey's Wish, an organisation which provides training and puppies for service dog training to veterans, first responders and correctional officers who suffer from post traumatic stress disorder (PTSD) and service related injuries.
Teacher Georgina Wallace said the students felt compelled to help out the organisation after she told them about a good friend of hers who was a recipient of a Whiskey's Wish dog.
"As an ex-member of the Australian Defence Force my friend has suffered both mentally and physically and her dog helps her to cope with the fall-out from this," she said.
"My partner was also medically discharged from the Army over 25 years ago and still suffers as a result."
Ms Wallace said the students brainstormed how they could raise money for the organisation and decided to hold various cake stalls, which brought their fundraising total to more than $2100.
"Many of the students have gained more of an appreciation on how difficult it would be to run a business after advertising and selling at the cake stalls," she said.
"They have also learnt about PTSD and its effects on the community but most importantly, I think that they have gained a sense of self pride about what they have achieved and a recognition about the importance of volunteering."