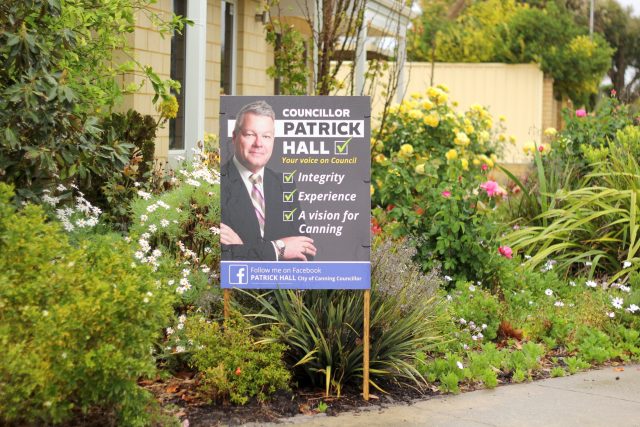 City of Canning mayor Paul Ng has lashed out at a Canning councillor for distributing re-election flyers which, he has alleged, made untrue claims.
Mayor Paul Ng accused councillor Patrick Hall of misleading voters on his re-election flyers.
Mr Hall's flyers suggest he supported the expansion of the Willetton Basketball Association stadium and a development for the Rossmoyne Netball Club, which Mr Ng said was untrue.
However, Mr Hall said his claims were all truthful and was disappointed Mr Ng was forcing him to defend his integrity.
Mayor Paul Ng took aim at flyers advertising Bannister Ward councillor Patrick Hall's re-election because they claim Mr Hall supported the expansion of Willetton Basketball Association stadium.
The flyer claims Mr Hall supported the expansion 'and council's funding commitment to this important community project', but Mr Ng said voting records suggested otherwise.
"He voted twice to not support it," he said.
"This is totally dishonest, not truthful."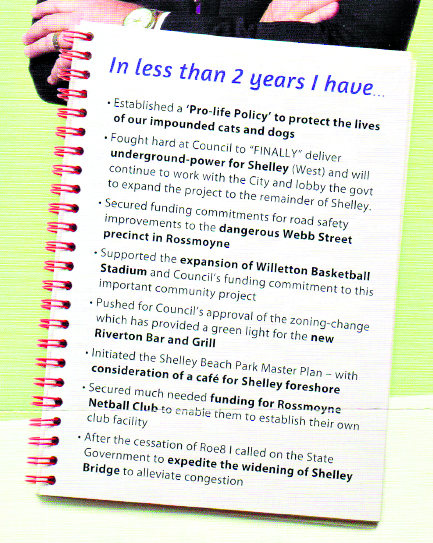 The first council vote on providing funding for the stadium upgrade was held in June 2016, where council debated pledging up to $2.2 million to support the expansion.
At that meeting funding was approved on the proviso it would be provided after State Government funding had been secured and an application for funding through the Federal Government's National Stronger Regions Fund had been confirmed.
The issue was brought up again months later following the Federal Government election because of a federal funding policy change.
In December last year council held the re-vote on the issue.
In both meetings the motion passed, but Mr Hall voted in opposition.
However Mr Hall said he had voted against the motions because he did not have confidence the city had done its homework.
Mr Hall said he was supportive of the WBA's desires to expand its facility and of council providing funding to assist, but did not believe enough due diligence had been carried out before it was put up for a vote.
"I have not been supportive of the manner in which the $2.2 million funding was – in my opinion – rushed through council," he said.
"The council had not been provided with sufficient detail on which to base a decision which would bind ratepayers to a multi-million dollar agreement.
"I stood up on behalf of ratepayers, asked the hard questions, and then asked for the matter to be deferred so that more detail could be provided to the council.
"On principle I could not in good conscience vote to support the process."
Mr Hall also said he had been involved with the WBA for years.
"No member of the Canning Council has had a longer or more intimate association with the club," he said.
"I played basketball there from the early 1980s, each one of my four sons played basketball there, our family were members of the Willetton Sports Club, and I was a nationally accredited basketball referee and officiated at the Willetton Stadium for years.
"I am of course supportive of the Association's need to expand."
Feathers fly over netball funding
Canning mayor Paul Ng also said Mr Hall had been misleading in his re-election flyers by suggesting he had assisted with securing more than $60,000 in funding for the Rossmoyne Netball Club to develop a toilet and storage building at Shelley Park.
Mr Ng rejected this claim and said negotiations had been held and an agreement reached in private, without Mr Hall, in 2016.
"I and the Member for Riverton Mike Nahan spoke about it last year together with the former president of the netball association," he said.
"It was discussed in Dr Nahan's office when he was still in power."
However Mr Hall hit back and said Mr Ng had ignored his work and the work of other Bannister Ward councillor Ben Kunze.
"I recently published a flyer which said that I had secured funding for Rossmoyne Netball Club to enable them to establish their own facility, because that's exactly what occurred," he said.
"The club had approached both myself and councillor Ben Kunze for our assistance after their discussions with the City of Canning had apparently – in their view – not resulted in the level of support that the club required."
The vote to support or reject approving $61,259 in funding to assist the netball club's project was held at the August 15 council meeting.
Mr Hall raised the motion and it carried with it the support of all councillors.
"After almost 18 months of hard work behind the scenes, I moved the motion at council which outlined possible funding, then spoke strongly and passionately on the club's behalf."
Rossmoyne Netball Club president Meredith Willmott said in her view Mr Hall and Mr Kunze had undoubtedly helped the team secure funding.
She said Mr Ng's claim to have secured funding earlier with Dr Nahan was irrelevant because he was no longer in government.
"In March we received a pledge from Mike Nahan to fund a good portion of our building," she said.
"Obviously the Liberal Party didn't get in, so that fell through.
"There was no agreement between Mike Nahan and the mayor to support our project.
"We've been working hard at the club and with the City of Canning, and certainly Patrick Hall and Ben Kunze have helped us toward securing funding."