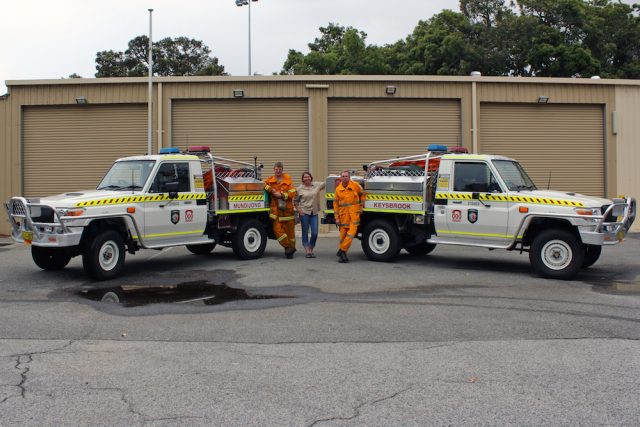 Bushfire brigades within the Shire of Serpentine Jarrahdale will be able to react to emergency situations faster and with greater assuredness following the acquisition of two new light tanker vehicles earlier this month.
Worth a combined $300,000, the vehicles will replace existing aging tankers and give volunteer firefighters the ability to better navigate the severe off-road conditions faced in fire zones.
Funding was secured through the Emergency Services Levy's Local Government Grant Scheme, which provides financial assistance towards firefighting appliances, vehicles and building maintenance.
Shire president Michelle Rich said the light tankers were a valuable addition to the shire's six volunteer bushfire brigades and would help improve community safety when it was most needed.
"These vehicles will increase the capacity of the shire's bushfire brigades to battle fires in remote and hostile terrain, which will help protect lives and homes," she said.
"The lifesaving work undertaken by local volunteers in emergency situations cannot be understated.
"These brave men and women enter hazardous situations and perform extraordinary work all in the name of keeping their community safe."
Ms Rich said the shire was committed to supporting its volunteer brigades by helping in the acquisition of equipment, which allowed them to be as efficient, effective and safe as possible.
More than 97 per cent of the shire is considered bushfire prone.
Serpentine Jarrahdale's six volunteer bushfire brigades are made up of nearly 400 active volunteers, with the vast majority drawn from local suburbs.
Local bushfire volunteers attend between 250 to 300 incidents each year, both locally and outside the shire.
With summer approaching, Ms Rich has reminded residents to have a bushfire action plan ready in case of an emergency.
"Bushfire season is upon us," she said.
"This means all residents, particularly those who live amongst bushland, should have a clear understanding of what to do in an emergency.
"It's important that your bushfire plan doesn't rely upon the availability of power or water because these services may be affected.
"It's also important that each member of your family and your neighbours are aware of your plan."
Volunteer brigades across the shire are currently recruiting new members for both firefighting and support roles with full training provided.
For more information visit sjshire.wa.gov.au