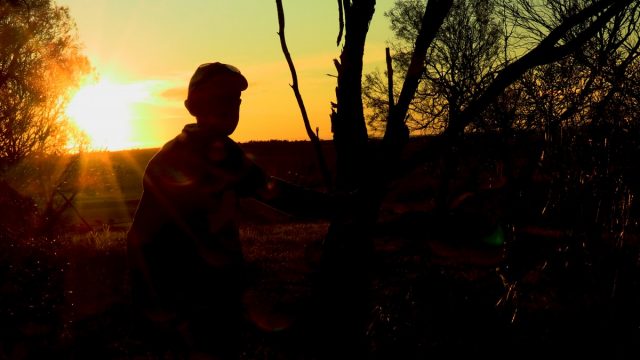 A short film exploring the fascinating family history of Ballardong man and Kelmscott artist Sydney Phillips will be on display in the heart of Perth's CBD for the next four consecutive weeks.
The production, entitled Finding Moort, is the latest to be produced by Armadale-based film company JAK Films and follows Mr Phillips' journey across country as he attempts to re-trace the steps of his Noongar-Yamaji and European ancestors after discovering he was a relative of the state's first Surveyor-General John Septimus Roe.
The documentary came to fruition late last year after Karen Hudson of JAK Films met Mr Phillips in a local gallery.
The film is largely based on research documentary makers Karen Hudson and Andrew Pheasant have undertaken to verify the elaborate family tree Mr Phillips sourced from the state's South West Aboriginal Land and Sea Council – made more difficult by the stolen generation policies.
Mr Phillips said he was surprised by the interest the pair had taken in his unique story, but that he was eager to take up the opportunity to preserve his family history for future generations.
Over four days, Mr Phillips and the two filmmakers travelled throughout the state's Wheatbelt to Southern Cross, encountering Mr Phillips' long–lost relatives and family friends.
"This is just a snippet of my story, but it's recognition for my family and where I come from," he said.
"This could liven up the country towns, reconnect families and communities and encourage others to respect what is around them – to respect country.
"This story has allowed me to walk the same track as my ancestors – this is 190 years of history."
The 51-year-old, who has a diploma in community development, said he hoped the documentary would bring about positivity.
Much like Mr Phillips, Mr Pheasant said he hoped the documentary would bring about a greater understanding of the history of WA and how so many families, white and indigenous, are bound by common history.
He also hopes the film sparks a greater appreciation of the importance of country and inspires people to venture out to the regional areas doing in tough in the wake of COVID-19.
The pair have shot at least 65 per cent of the documentary and will be sourcing more funding ahead of their January deadline.
The film, which received funding from WA screening body Screenwest, will be displayed digitally in the heart of Yagan Square every Thursday at 6.09pm for the month of July.
Finding Moort was also featured as part of the Artists of Armadale live streaming project.
For more information, visit madebyjakfilms.com