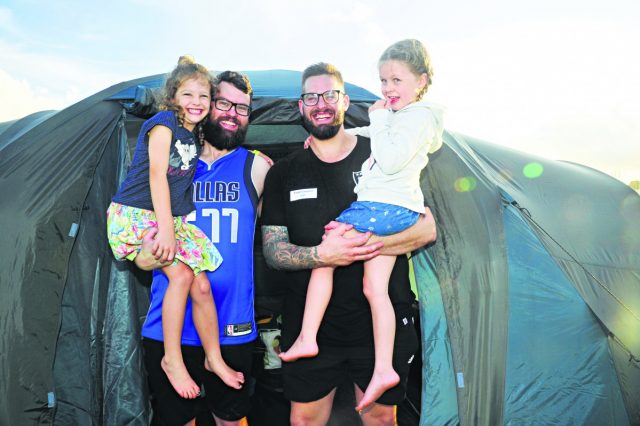 Fathers, along with their children and other students, came out in droves to the St John Bosco College oval last weekend for a father-student Sleepout. 
The event was held on the night of Friday March 6 and went through to early Saturday morning and was run by Dads of St John Bosco, a group of volunteer fathers who came together to organise the Sleepout. 
This was the third event, held every year by the Dads of St John Bosco, and according to Friends of St John Bosco president Brett Mallott, their most successful so far. 
"The event was a huge success and it was only the third we have held," he said. 
"It started in 2018 … we ended up with 250 people, it grew in 2019 with the inclusion of year six students to 300 people and this year 390. Next year we will grow to include year eight and eventually year 12, where the camp will become more important than ever to capture teenagers and their fathers and father figures." 
Mr Mallott said the event is mainly aimed at bringing fathers closer to their children to provide the children with strong father figures and role models. 
"The kids get to see all dads pitching in with set up, activities, cooking and cleaning, setting up the right male role model for sons to be and for daughters to expect," he said. "The children love to spend time with their dads, it is not often they get to do it one on one. 
"The kids love the event … as soon as school starts in the year they are talking about it." 
Beyond the relationship between father and child, Mr Mallott said the event also benefits the fathers, providing a place where dads can be open about the challenges of parenting as well as building confidence in their parenting ability. 
"Dads realise they can also look after the kids, feed them, bed them, midnight toilet runs," he said. 
"We generally get a guest speaker in to have a chat and engage dads in issues that arise from fathering to single fatherhood." 
The day started with gates open at 4pm, followed by setting up the tents which children were encouraged to help with. 
The evening involved free activities such as cricket, soccer and other sports, tug-of-war, rock wall climbing, scavenger hunts, disco and more. 
Lights were out at 9.30pm and the breakfast helpers were up bright and early to start cooking at 5am the next morning and following a 6am breakfast, attendees were tidying and packing up by 9.30.
Dads of St John Bosco fall under The Fathering Project, a Western Australian founded charity group. The group has the aim of enabling fathers and father figures to positively engage with children in their lives, who also held a father student Sleepout at Optus Stadium on Saturday night.