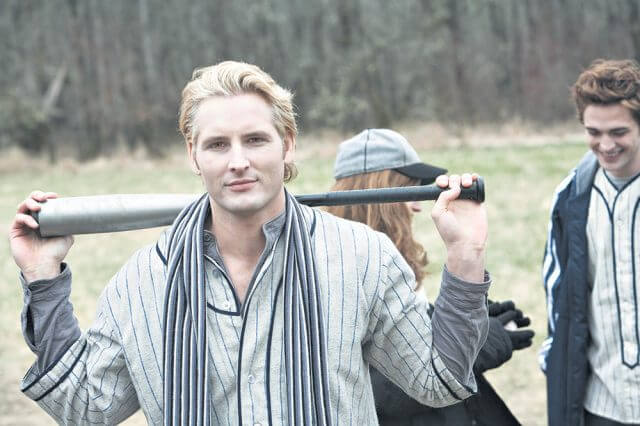 New York born and bred actor Peter Facinelli, known for his roles in the Twilight series, will join a host of stars at this year's Supanova in Perth on June 25 and 26. Robyn Molloy chatted to him about his current role in Supergirl as billionaire Maxwell Lord.
Speaking from the sidelines of his daughter's soccer match in Los Angeles last week, actor Peter Facinelli is thrilled the Supergirl series has been picked up for a second season.
It means his role in the Fox8 series, which launched in Australia in December, as the super rich and controversial Maxwell Lord will continue.
"It is just a blast and I am excited it got picked up for a second season," he said.
"What I like about him, if you look at his character, what he thinks he's doing he thinks is good.
"Sometimes he has to do bad things for the greater good and he is not motivated by greed because he is a billionaire and he's not motivated by fame because he is already famous."
Facinelli said Lord's motivation was to preserve humanity and have humanity save itself without outside interference.
"From his point of view he is actually right but he lives in kind of a grey zone where he does bad things sometimes," he said.
"Then there are times when he will completely join forces with Supergirl to get rid of the worst people he thinks are more of a threat.
"So he's constantly flicking back and forth between good and bad."
Facinelli said the role differed greatly to that of Peter Decker, who he played in last year's TV thriller American Odyssey.
"They are night and day, that character (Decker) was a corporate lawyer who was caught up in the huge scandal and basically, for 15 episodes, his life was a wreck as he tried to get out of that situation," he said.
"And once he opened that Pandora's Box he just couldn't shut it, you know.
"Sometimes it takes a lot of courage to stand up against something when you are the only one standing up for it.
"It would have been easy for him to say you know what, I have a family, I am not getting involved.
"I know that what they are doing is horrible but I get my coffee in the morning and my paper and life is good.
"And he went to fight huge corporations and the government and uncover conspiracies and also the threat to his family and his life and that takes courage."
Facinelli, who has also starred as Dr Fitch Cooper in seven seasons of Nurse Jackie and Dr Carlisle Cullen in the blockbuster feature films The Twilight Saga: Twilight, New Moon, Eclipse, Breaking Dawn – Part 1 and Breaking Dawn – Part 2 said he couldn't choose a favourite role from all the ones he's played.
"They are all so different, I always say they are like my children and I have to pick which kid is the favourite, every job I have taken I have always been excited to go to work in the morning," he said.
"When you do that character and they are part of you they are all your favourites, if they do well or don't do well is not always in your control but what is in your control is what you bring to it and I always try to bring the best into the role."
Facinelli said because he had done so many roles, it was fun to see what the public say when they meet him.
"I have fans from all different types of shows. Some people say Twilight, some people say Nurse Jackie some people like movies I did like 10 years ago," he said.
"What I joke is that I have made a little bit of fun for everybody. I've done comedy, drama, acting."
Facinelli will join a host of stars at Supanova including Travis Fimmel (Vikings, Warcraft) James Marsters (Buffy the Vampire Slayer, Angel), Sean Astin (The Goonies, Lord of the Rings), Shannen Doherty (Charmed, Beverley Hills 90210), Brian Krause (Charmed, Return to the Blue Lagoon) and Juliet Landau (Buffy the Vampire Slayer, Angel)
Visit supanova.com.au  to find out how you can meet the stars at the Perth Convention Centre this month.
• Find out what Brian Krause (Charmed, Return to the Blue Lagoon) has been up to.