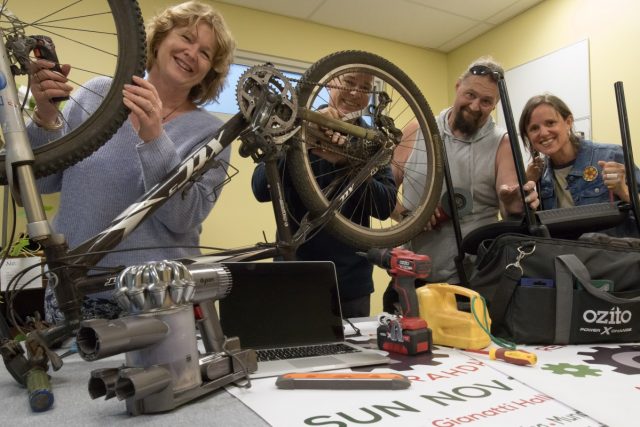 A community hall in Jarrahdale will soon be transformed into a Repair Café for members of the public to tinker with broken items that would otherwise make their way to landfill. 
Not-for-profit group Jarrahdale Community Collective is hosting its inaugural Repair Café event at Bruno Gianatti Hall next month and is hoping the local community will jump on board and support the global phenomenon. 
Dutch environmentalist and former journalist Martine Postma organised the first Repair Café in October 2009 in Amsterdam. 
Ten years on, her idea has gone gangbusters with repair cafes popping up worldwide providing communities with the tools and materials to fix their clothes, household furniture, electrical appliances, bicycles, toys and everything in between. 
Jarrahdale Community Collective member Morag Cook said the Repair Café concept fits with the group's objective to develop a more sustainable community. 
"Although the Dutch model has an environmental focus, we are finding that the planning sessions are a wonderful social activity," she said. 
"In this way, our community is becoming more connected with stronger bonds, building skills, resilience and developing a stronger sense of pride for Jarrahdale." 
Ms Cook said fixing items instead of tossing them out is a valuable lesson she grew up with but sadly seems to have fallen by the wayside. 
"My grandma taught me how to sew on a button and my poppa taught me the value of WD40 to make things work properly," she said.
"These seem like simple lessons but we are forgetting our creative ability to mend and repurpose our belongings. 
"It's cheaper, better for the planet and it makes you feel a deep sense of satisfaction." 
Members of the community are invited to head along to the free event on November 3 from 12pm to 4pm at the Bruno Gianatti Hall on Munro Street, Jarrahdale. 
The event will also feature entertainment by local talent Joseph Graham, a reading room by Mundijong Library, a car maintenance demonstration, a knife sharpening demonstration and a sausage sizzle cooked by members of the Jarrahdale Primary P&C. 
For more information visit the Jarrahdale Community Collective Facebook page or website or email info@jarrahdalecc.org.