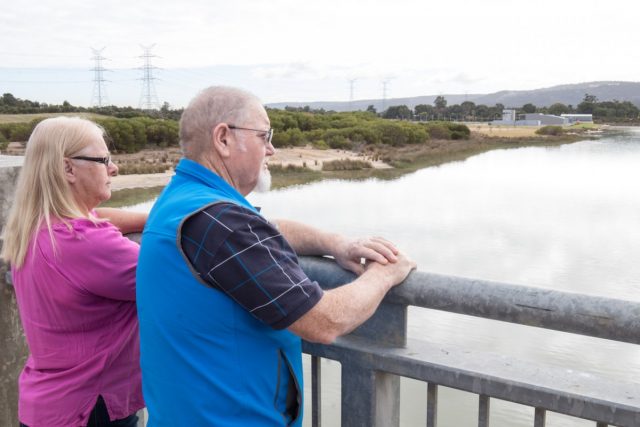 Frank Duffin feels he has been left in limbo wanting to know if a dog found drowned in Champion Lakes in January was his.
Mr Duffin and his sister-in-law Paula Ward have been working tirelessly to get answers since his seven-year-old American Staffy dog Rolly escaped from his Camillo home during Australia Day fireworks.
Despite long hours searching on foot and advertising online after the disappearance, neither heard anything for days until a Facebook message came to Ms Ward saying a dog had been found drowned in the nearby Champion Lakes on January 28.
Thinking their search had come to an end, the pair sought confirmation of the dog's appearance from Champion Lakes' operator Venues West.
However, Mr Duffin and Ms Ward quickly became frustrated when they learnt there were no notes or photographs available of the recovered dog and that it took several days for it to be removed from under a pontoon on the lake.
When the pair were told the dog had been buried on-site by a Venues West employee they hoped that would lead them to their answer, but further inquiries revealed that story was not true.
The dog had instead been thrown into a bin.
Ms Ward said it had been too hard to get simple answers.
"Nobody seems to know anything," she said.
"Just tell us the truth.
"We want to know if it was him or not, we want some closure."
Mr Duffin has since suffered a heart attack, which he believed was partly due to stress from the incident, but despite this he said the pair would continue to search for answers.
"I hope this never happens to anyone else," he said.
In response a Venues West spokesperson said they regretted the mix-up over the story of the dog's disposal, and expressed sympathy to Mr Duffin.
"On 30 January a deceased dog was removed from the lake by VenuesWest staff," they said.
"Unfortunately the extent of decomposition meant the body could not be accurately identified.
"Whilst staff acted with best intentions, it is regrettable an initial and incorrect response regarding the burial of the dog was provided upon enquiry."
The spokesperson acknowledged the dog removed from the lake was similar to Rolly's description.
A $500 reward is being offered for Rolly's safe return.