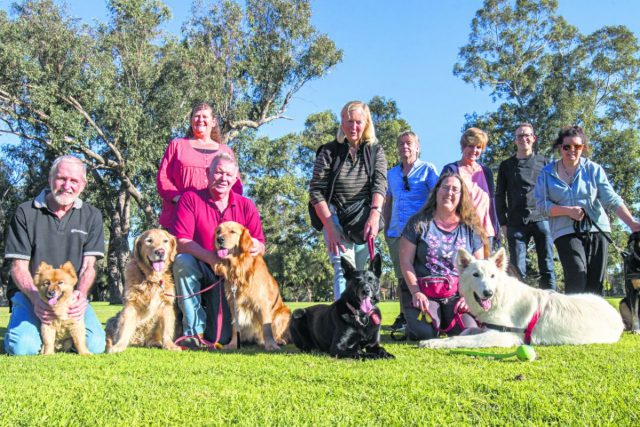 Canning's multitude of dog lovers celebrated after Canning City Council endorsed the trial of a dog exercise area at Wilson Park at its June meeting.
Located at the Kent Street Weir precinct, the trial will allow a designated space for dogs to socialise and exercise without the risk of running off.
The area's fence will also protect dogs from snakes in the spring and summer periods.
The trial will start on August 1 and run until March 31 2019, with a three-month consultation period to gauge public opinion.
A petition for the dog park was presented to council in May, with local residents filling out the council chambers to promote the document.
"The city has approximately 5,960 registered dogs. In a population of loosely 90,000 people, that's seven per cent," Petition presenter Pat Smyth said.
Petition organiser Katherine Mann said the area was already used by dog owners, with council's tick the only barrier to its official approval.
"We've been using it for the past six months, but people have been using the dog park for ages," she said.
"It's about safety, both for dogs and for everyone else."
City of Canning mayor Paul Ng said the decision was in response to overwhelming support from the community.
"We have been listening to our community and have received feedback from users of the park that they would like to see the space used for dogs," he said.
"The City received a petition containing 272 signatures of people who would like to use it as an off-leash dog space and we are happy to run the trial."
The area to be used is within the Canning River Regional Park and is a popular spot for dog walkers.
Other users of the area including Canning River Canoe Club and the Wilson Wetlands Action Group have indicated their support for the trial.
Councillor Patrick Hall, who endorsed the petition in council, said he was glad what he saw as the right decision had been made.
"It was a great personal pleasure to move the motion at last night's meeting and to have the opportunity to speak about the benefits of the initiative.," he said.
"Importantly the fenced off-lead area will also result in a clear separation between dogs and other Kent Street Weir visitors, providing a benefit to those people who may not be quite as enamoured with dogs as others of us are."
The leash-free trial begins on August 1, after a mandatory 28-day advertising period.